2014 Toyota FJ Cruiser Driving Impressions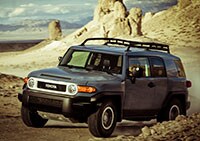 Powering the FJ Cruiser is Toyota's 4.0-liter V6 engine, well-proven in the 4Runner, Tacoma and Tundra. In the FJ Cruiser it develops 260 horsepower and 271 pound-feet of torque, the sort of grunt that comes in handy when traveling off-road or when towing.
The FJ Cruiser is rated to tow as much as 4700 pounds. It would work fine for ATVs, snowmobiles and personal watercraft. Though the 4Runner is rated to tow only 300 pounds more on paper, for a variety of reasons we would consider it a much better tow vehicle.
The Toyota V6 not only is strong, but clean and fuel-efficient as well. It earns the FJ Cruiser a LEV-II (low-emission vehicle) rating from the federal government.
Fuel economy is an EPA-estimated 17/21 mpg City/Highway for a 4WD automatic, 15/19 mpg for a 4WD with 6-speed manual gearbox, and 17/22 mpg for a 2WD automatic.
The Toyota FJ Cruiser is quite capable off road, even more so than the highly capable 4Runner on which it is based. The FJ offers better approach and departure angles and a shorter wheelbase, with the same generous ground clearance.
Of the three drivetrains available, those primarily interested in the unique design statement made by the FJ Cruiser will likely opt for the two-wheel-drive setup. This is not the setup we would choose.
Those planning to do serious off-road driving will want the full-time 4×4 with the manual transmission, which features a clutchless starting feature that can come in handy for rock-crawling maneuvers. With the manual transmission, the drivetrain is a full-time four-wheel-drive setup with H4, H4L (locked Torsen center differential) and L4L (low and locked) settings. The H4 mode usually sends 60 percent of power to the rear wheels, but can send as much as 53 percent of power to the front wheels or 70 percent to the rear wheels as needed. An electronically locking rear differential is standard with the manual transmission and available with the automatic, even in the two-wheel-drive version. With the manual transmission, the FJ Cruiser has an off-road crawl ratio of 41.84:1 and has proven itself capable of traversing California's rugged and world-famous Rubicon Trail.
Those looking for an automatic likely will select the part-time 4×4 with its automatic transmission. It's a good choice regardless of road and weather conditions. It's also a good choice for rugged terrain and is available with Toyota's A-TRAC off-road technology. It's our choice, unless we were planning to do organized off-road adventures. With the automatic transmission, the four-wheel-drive system offers shift-on-the-fly selection with H2 (2WD High range), H4 (4WD High range) or L4 (4WD Low range) settings for the torque-splitting transfer case.
The Upgrade Packages include Toyota's computer-controlled A-TRAC, for Active-TRACtion. This system, which also makes steering easier in rugged terrain, can be turned on or off via a switch on the dashboard control panel. In severe off-road situations, drivers may need to engage the locking rear differential, but we found the A-TRAC system ideal for negotiating a series of serious and deep moguls in steep terrain when we did our off-road test drive.
The Vehicle Stability Control system works with the roll sensor to try to stop lateral skids before they can lead to a rollover. Failing that, the sensor deploys both the side-impact and side-curtain airbags. VSC comes standard on all models.
Toyota anticipates that many FJ Cruiser owners will want to explore away from pavement, but most miles will be racked up on city streets and suburban highways, where we found the FJ Cruiser to be comfortable, even when we sat in the back seat. One thing we did notice, however, was that the big roof rack that's available as an accessory can create a lot of wind noise at Interstate speeds. This is true with all safari-style roof racks, something many Land Rover owners know. We still think lots of people will want one, however, if for no other reason than it looks so cool. We'd order one for ours and put up with the wind noise.