2014 Toyota FJ Cruiser Summary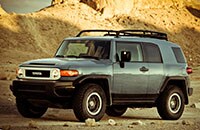 The 2104 FJ Cruiser is Toyota's most capable sport utility vehicle when it comes to getting where you want to go when there's no pavement beneath your tires. Not everyone will appreciate its heritage, whether in the iconic design cues brought forward in a thoroughly modern vehicle or in the way this vehicle lives up to the Land Cruiser's much deserved reputation for getting across deserts, up mountains and through swamps and jungles on continents around the globe. But for those whose lifestyles include exploring, whether it's sandy beaches, mountain trails, secluded lakes, busy ski hills or even the urban jungle, the FJ Cruiser provides Toyota quality at a competitive price and wrapped in a unique design, inside and out.
NewCarTestDrive.com correspondent Larry Edsall filed this report after driving the FJ Cruiser in the hills west of Los Angeles and in the desert around Palm Springs, California. Additional material by John F. Katz.