2014 Toyota Highlander Driving Impressions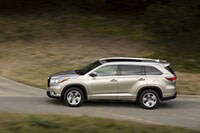 The Toyota Highlander is easy to drive, much more like a car than a sport-utility. The badges rightly say all-wheel drive now rather than four-wheel drive, and you should consider it a traction aid and not an invitation to off-road travel.
Most Highlander models are powered by a 3.5-liter V6 Toyota uses in many cars. Its 270 horsepower are more than sufficient, generally smooth and quiet. EPA says 19/25 mpg City/Highway with front-wheel drive, 18/24 mpg with all-wheel drive. A 6-speed automatic transmission helps with decent fuel economy but don't expect car-like mileage from a two-plus-ton wagon.
Base models use a 185- horsepower 2.7-liter four-cylinder truck engine (also found in Tacoma and Venza), which is surprisingly adept in the front-wheel-drive Highlander. EPA estimates are 20/25 mpg City/Highway, giving the four-cylinder just a one-mpg advantage over a front-drive V6.
Hybrid models use a different 3.5-liter V6 and electric motors for a 280-hp system. It didn't feel quite as quiet or smooth (the brake pedal regeneration trigger effect requires more attention for smooth braking) as a gas-only Limited. Also, the Hybrid's fuel economy advantage is primarily urban, as it rates 27/28 mpg City/Highway. For road trippers, the gas-only probably makes more sense. On a golf course we did try the EV-only mode and couldn't quite reach 25 mph in it.
The 2014 Highlander has more steering effort than before if not more feedback, but we suspect most owners will like the smooth, go-where-you-point it steering that isolates front-wheel impacts. The suspension has been buttoned up some: It now feels like the suspension is absorbing the bumps, not a bunch of rubbery isolation joints, and as a result is generally nicer to drive. We couldn't find enough volunteers to test the ride fully loaded.
18-inch aluminum wheels are standard, with 19-inch wheels on the Limited. Although tires on our samples were from Michelin, Toyo, and Bridgestone, we thought the 18s offered just a little less road noise and impact harshness but the 19s are the only way to get all the options.