2014 Toyota Highlander Summary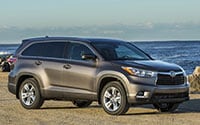 All-new for 2014, Toyota Highlander does everything the old one did, but it offers better fuel economy, more features and more seats. If you just need a wagon to simplify your life as the occasional designated school-pool driver, some may offer more performance or more features but as a complete package the Highlander is hard to beat.
G.R. Whale filed this NewCarTestDrive.com report after his test drive of multiple versions of the 2014 Toyota Highlander.