2014 Toyota Highlander Walk Around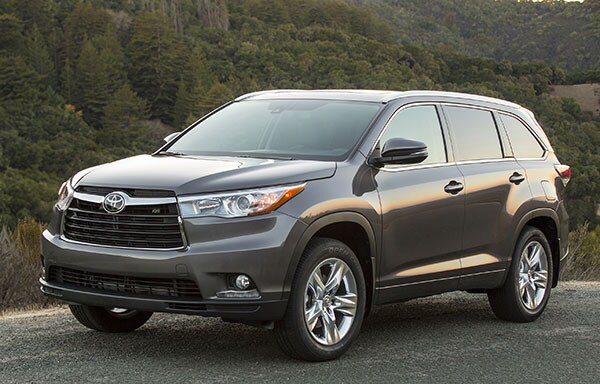 A little longer, wider and lower than the last generation, the 2014 Toyota Highlander looks less box-like and more wagon, in family terms a sleeker 4Runner or elongated Venza without the Big Wheel look.
Mix the arched upper grille line of a Toyota car with the hefty horizontal aspects of a Tundra or 4Runner and you get the Highlander. It's more blunt and imposing than the last Highlander but not blunt enough to offend returning buyers. High-line models get LED running lights below the fog lights, while all have substantial painted surfaces under the headlights sure to attract bugs.
From directly astern the truck-oriented theme continues, though the massive bumper that flares into the rear wheel opening appears 110-percent scale compared to the svelte body lines above it. There is essentially no bumper protrusion to scratch while loading, nor to stand on for cleaning or loading the roof.
The rear spoiler and roof section are heavily sculpted and the roof rail cross bars sit on the body so there is nothing to tie a kayak, the odd mattress or a Christmas tree to. Roof rail cross bars are an option, with fixed mounting points. The hatch glass (which opens separately on some versions) has a few fasteners on it that appear dated in this age of concealed hardware, and the spoiler edges don't integrate as cleanly as we'd expect.
The side view is basic wagon with black-plastic framed wheel openings to portend Highlander's off-road prowess. The longer rear door improves third-row access, though the lower roofline does not. If you cut off the ends and removed the badges, the Highlander could be any number of crossovers or SUVs, easily mistaken for a Kia Sorento, Ford Explorer, Jeep, Nissan, Hyundai or Mazda.
Interior
Whether you want the weather-resistance of cloth seats or the luxury and expense of perforated leather, Highlander's cabin is assembled from the right bits. No matter how expensive it gets, the third-row is not leather. Nor are door panels prone to scuffing or hard to clean. If you carry too much stuff or too many kids, they've thought about trying to make your life easier.
Measured dimensions of the 2014 Highlander are all an inch or less bigger or smaller than the last generation with two exceptions: third-row hiproom is up 3.3 inches, third-row legroom is down by 2.2 inches. Thinner seatbacks, a new dash and longer exterior have added six inches to the cargo floor behind the rear-most seats.
The front seats proved comfortable and easy to get in and out of. They are powered on upper trims, but none of the passenger seat options is adjustable for height and some riders found themselves a bit too tall. Spirited driving surpassed the limits of lateral support but we think the seat comfort/egress/support balance is correct.
The 2014 Highlander offers improved forward over pre-2014 Highlander models because the A-pillars are thinner and more raked. Rearward visibility is about the same as before and most dependent on how many people are on board. A rearview camera is standard, warnings and sensors available.
Second-row seats slide fore and aft, recline, fold and are split 60/40, and now offer third-row access from both sides. We found it odd with a flat floor and three-across seating that the center console has a bin at the bottom rather than more toe room for the rear-center passenger. Also, the middle-row, middle-seat shoulder belt drops from the roof over the third row and spoils the view both directions.
Instead of a second-row bench seat, Limited and Hybrid models come with sliding and reclining captain's chairs and what is called a side table, essentially two cupholders and a depression for a smart phone, which take away walk-through space for kids.
Third-row seats are wider and have three seating positions, but that is kids-only proposition. Side entry space is better than before but not full-size. You might fit a pair of small adults in the back too. There are vents, cupholders and lights back there, also.
Trim varies with model, but there's a welcome limit to glare-inducing chrome. Matte-finish silver serves as highlights, with the dash bin and door pull wraparounds done in blue or brown contrasting colors: Perhaps not as fancy as a similarly toned Grand Cherokee, but not $60,000 either.
The tilt steering wheel could use a bit more telescope-function range but the controls on it are logical and afford a good view of the gauges. Most ancillary switches are on the lower-left dash. Chassis (and Hybrid EV mode) controls are ahead of the console. Climate controls are a simple row above the equally simple shifter, and audio/nav controls are above that. The various Entune audio and nav apps and systems did what we wanted, but the panel is offset to the passenger side leaving some controls another steering-wheel diameter away. Use voice controls whenever you can.
The dual-opening deep center console capacity was listed by Toyota as 58 juice boxes, though why you'd want that in a car full of kids is beyond us. There's a handy tray along the center-right dash, with cable slots, ideal for containing your phone or players. A small bin left of the driver is good for tolls and cards, and the door pockets hold more beverages.
One of the new gadgets is Driver Easy Speak which uses the hands-free mic and audio system to amplify the driver's voice throughout the car. Based on cabin size it's needed only for truly annoying kids or those wearing headphones.
Cargo space is larger (the spare tire is underneath the car). Third and second-row seats fold to a flat but not horizontal floor, and with the captain's chairs interior it's a discontinuous cargo floor. There is a small bin space beneath the back, small tie-down rings, and very smart seatbelt clips that secure the belt and the latch point from rattling. Cargo capacity is 13.8 cubic feet behind the third row, 42.3 cubic feet behind the second row with third row folded, 78.6 cubic feet behind front row with second and third rows folded.