2014 Toyota Land Cruiser Driving Impressions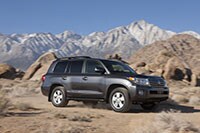 Land Cruiser feels secure underway and it's relaxing to drive on long trips.
Press the start button and the gauges light up, needles bounce once, the steering wheel and mirrors return to previously-set positions, and the V8 quietly hums to life. A gentle but insistent chime prompts seat-belt use.
Find Reverse, and the back-up camera displays on the navigation screen what's behind you. It's a welcome feature, helping to make this SUV easier to park and safer for kids to play around.
In everyday driving, the Land Cruiser feels and behaves just like any other well appointed, full-size SUV. Civilized ride quality is achieved by use of coil-over spring-and-shock combinations in the front, and a four-link/coil spring setup in the rear. There is a fair amount of travel at the rear, which translates into decent ride quality for passengers closer to the rear axle.
Steering, a rack-and-pinion setup, feels light at low speeds, which aids in maneuvering and parking. Because it is a variable-ratio system, at higher speeds it feels solid and progressive, not twitchy in any sense, with a distinct return-to-center tendency. We found it tracked well at cruising speeds along the scenic two-lane highways heading into Yellowstone National Park.
The driver's seating is generous and relaxing. If you get tired of one position, as we did after a few hours, the seat and wheel adjustability allowed us to rotate through a variety of driving postures. Because of a 24.6-gallon fuel capacity, theoretical range is somewhere between 320 and 440 miles per tank.
On the highway, the Land Cruiser offers sharp handling (for an SUV) and a secure environment. More precise than bigger trucks, and immune to smaller traffic on sheer bulk alone, the Land Cruiser driver will rarely feel threatened no matter how competitive the morning commute may become.
Throttle response is quite good from the 5.7-liter V8. Rated at 381 horsepower at 5600 rpm and 401 pound-feet of torque at 3600 rpm, the 5.7-liter engine is shared with the Tundra full-size pickup. Toyota has incorporated the latest variable valve timing technology, cam lobe design, and intake manifold tuning to optimize the engine for power output, fuel economy and reduced emissions. Like any good truck engine, the 5.7-liter allows the Land Cruiser to loaf around at low rpm and still offer ready throttle response.
Fuel economy is an EPA-estimated 13/18 mpg City/Highway. That's decent highway fuel economy for the vehicle's size and weight.
The 6-speed automatic transmission enhances drivability. The transmission offers a very low first gear for heavy loads, and two overdrive gears at the top, including a super overdrive top gear that accounts for the smooth, efficient highway cruise mode. As we drove on a variety of highways and mountain roads, the transmission always seemed to be in the right gear, and without hunting back and forth. The automatic is computer controlled, constantly cross-checking with the engine to determine a shift pattern based on driving conditions. We noticed that, when decelerating down a long highway incline in sixth gear, the transmission would automatically downshift to fifth or even fourth gear to supply engine braking. It felt secure and made it easier to drive.
Land Cruiser is a full-time four-wheel-drive truck, with a nominal torque bias of 40/60 front/rear. However, it drives and feels more like a rear-wheel-drive vehicle in normal conditions, with stable tracking and light, easy steering with no apparent torque steer. Should front wheels begin to slip, up to 70 percent of engine torque can be instantly biased to the rear. On the other hand, should the rear wheels begin to slip, the torque ratio changes to a maximum of 50/50, for ideal stability and balance.
Brakes are stout four-wheel discs, as they need to be with a vehicle of this size and weight. Pedal travel allows for a slight squish before the brakes begin to grip, at which point large calipers progressively haul down the Land Cruiser's nearly three tons with minimal effort. The four-wheel-multi-terrain anti-lock braking system automatic selects the optimal ABS profile to provide the most suitable brake force for on- and off-road driving. The brakes are enhanced by Electronic Brake-force Distribution (to equalize braking forces between front and rear wheels) and Brake Assist (which can assist the driver in panic stops).
And for those moments when push does come to shove, the Land Cruiser lives up to the capability requirements of a traditional, authentic four-wheel-drive truck.
The Multi-terrain Select system dials in wheel slip control to match the terrain. In loose terrain such as mud and sand, more than normal wheel spin is allowed. On solid rock, wheel slip is minimized and the system acts more like a limited-slip differential.
Crawl Control acts like ABS on steep downhills when driving off-highway in Low range, preventing the vehicle from rolling too fast, allowing the driver to select from five settings, depending on the surface condition and steepness of the hill. No braking is needed; the driver simply steers the vehicle. In extremely rugged terrain, we found we could select from the Crawl Control settings on the fly, using the system to maintain a comfortable speed as steepness varied. The system does make a disconcerting noise as the brakes are selectively modulated, wheel-to-wheel, but we can vouch for the fact that it holds the vehicle to safe speeds even on the steepest downhills.
Other reasons why a Land Cruiser excels in rough terrain are more fundamental. It is proportioned with a wide track and very little body overhang, so it can climb slopes up to 45 degrees, sidehill up to 43 degrees without rolling over, and drive in and out of a 30-degree ditch, head-on. There are skid plates under the engine, transfer case and fuel tank, and two stout tow hooks in the front. The spare tire is a full-size tire, not a temporary spare. Frame strength, a fundamental requirement for durability, is prodigious, reflecting Toyota's 60 years of experience in off-road motoring.
An example of build quality can be found in the exhaust system. It's stainless steel (expensive) to resist mud and water without rusting. It is hung using two additional ball joints located just forward of the main muffler that reduce vibration in the exhaust system, so it will be a long time before the exhaust will crack, fatigue or rattle.
The Kinetic Dynamic Suspension System includes robust stabilizer bars that enhance handling on smooth, paved surfaces. Yet, under variable wheel movement, such as driving on deeply rutted surfaces, both front and rear stabilizers permit enhanced suspension articulation, allowing the rear wheels to move as much as 27 inches to stay on the ground. The system is not electronic, but hydro/mechanical, and requires no power source. The significance is that the benefits of a taut suspension can be available for everyday driving, without sacrificing the need for a very flexible suspension off road.
In Low range, there is the firm throttle response of torque on demand, but the throttle is not touchy at low speeds. This is the result of electronic throttle control that accounts for the lower gearing, so accelerator tip-in is more progressive. Power gets to the ground through stout axles with large ring gears and double-row bearings. The full-time 4WD system has a generous low-range ratio of 2.618:1, and a locking center differential that can be engaged in high range or low range. Between the low gearing, the Torsen center differential, the variable-roll-stiffness suspension and large tires, the Land Cruiser's design envelope offers the ability to get to any rational destination, regardless of conditions.
Trailer Sway Control uses the Land Cruiser's VSC Vehicle Stability Control to help minimize trailer sway.