2014 Toyota Prius v Walk Around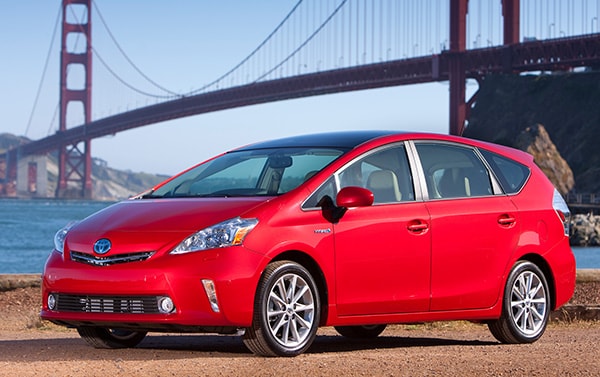 If the only reason you haven't bought a Prius is because it looks like a jellybean, you've lost your excuse. Now it looks like a real car.
Prius v's styling resembles a swoopy small minivan, not unlike the Mazda5, or maybe a big Honda Fit without the sharp edges. It's less distinctive than the Prius liftback, but then so is almost everything. It's 5.3 inches longer than the liftback, 3.3 inches higher, and 1.2 inches wider, on a slightly wider track.
The headlamps are sharp narrow triangles, flying away from the nose over thin vertical parking lamps, accenting an attractive front end. The nose sweeps sharply up to the A pillars and roof, about as wind-slicing as they come. At the rear, there's a standard spoiler that dips a bit at the exit of the roofline, and the wheels look great.
The coefficient of drag is 0.29, terrific for any SUV-like vehicle. Toyota engineers paid careful aerodynamic attention to the bumpers, corners, rocker panels, mirrors, wheels and wheelcovers, and especially the roofline, and it all shows. Its shape means it isn't as good as the stellar 0.25 Cd of the Prius liftback.
Interior
With 34.3 cubic feet, Toyota claims the Prius v offers more cargo space than 80 percent of the compact SUVs and mid-size wagons on the market. Even that can be expanded, to 40.2 cubic feet, by sliding the 60/40 rear seats forward another seven inches. Fold them flat and there's a relatively massive 67.3 cubic feet; plus, there are big cargo slots under the floor. That's 10 cubic feet more than a Honda Fit with its rear seats folded, the cargo champ among compact hatchbacks; but then the v is 20 inches longer than a Fit. Like the Fit, the v's front seat folds flat, for you kayakers, carpenters and pole-vaulters.
The rear seats recline 45 degrees, so with the optional panoramic roof passengers can watch the clouds. Passenger volume is 3.5 cubic feet greater than the liftback, with shoulder and hip room both increased nicely. Rear door openings are wide and door panels concave, for more passenger room. With that extra 3.3 inches of height and long rear doors, it's very easy to climb in and out of the back.
Standard equipment will leave you wanting for very little in the cabin, but if you want the nice SofTex faux leather seats, which are heated in front, you have to jump all the way up to a Prius v Five, pushing the price over the $30k mark.
Standard seats are fabric, and aren't very sporty or rugged. They were gray and fuddy-duddy and not so comfortable, with pressure points that weren't right for us.
Prius v's digital display on the 6-inch screen adds color compared to the Prius liftback, although much of the information remains primarily for amusement; that is, you just don't need it. It's fun to watch for a while, but soon you forget about where the power is going and coming from at any given moment, and just drive. Besides, there's too much glare on the instrument panel, so you can't always see the color displays. But visibility is good out all the windows, front and back.
Toyota's optional Entune smartphone integration system allows for connectivity to many apps including Pandora and OpenTable. You can also do Internet searches, read your email, send text messages using the built-in voice-recognition. Although it's billed as a way to reduce driver distraction, we found that Entune, like many other infotainment interfaces, took our eyes and minds off driving more than we'd like.
The v leads the way in energy-efficient sound systems. The optional Green Edge system by JBL is 4 pounds lighter and uses 80 percent less power. You'll be seeing more of this. Any time you can throw out 4 pounds of wiring and use less juice it's good.
On the console, there's one simple climate control dial, plus redundant buttons on the steering wheel. There are two gloveboxes, one of which rattled during our test drive. The optional panoramic roof uses a new type of resin making it lighter, and it's thermal, reflecting light and keeping the interior warmer in winter. The navigation system worked fine, once we got used to its system of entering search words for the destination.