2014 Toyota Sienna Driving Impressions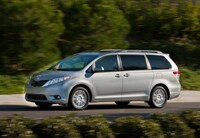 The Sienna has electric power steering, which allowed Toyota engineers to tune the steering response for the different models. The Sienna SE has the tightest, most accurate and responsive steering of the models, along with the best handling and the best chassis control. The Limited model has the most power assist in the steering, and the chassis is tuned for comfort. Sienna LE and XLE models are somewhere in between, with steering and chassis priorities balanced between comfort and handling.
Of the models we drove, the Sienna SE is by far the most appealing from a driving dynamics point of view. It steers exceptionally well for a minivan, more like a sports sedan. It corners without much body roll, with a nice crisp turn-in and a clean, stable track through the bends. This responsive personality is achieved with not too much ride tradeoff in the process. The 19-inch wheels and lower profile tires do allow a bit more road feel into the cabin, but it's not annoying, and the extra confidence allowed us to drive mountain roads at higher speeds in a relaxed manner. Frankly, we wish all minivans handled this well. We're not sure if a good-handling minivan is likely to become a major player in the marketplace, but if it is, the SE is a home run. We noticed the brakes become a little touchy when we hustled the SE down the Ortega Highway, but they don't lack for stopping power. All in all, we'd say the SE is a fun and responsive car to operate, in an attractive package. Drivers who drive enthusiastically will like the SE.
The available all-wheel drive biases torque between the front and rear wheels based on information from wheel sensors. When wheel slip is detected, torque distribution is adjusted accordingly, providing better grip on icy or snowy roads. A key difference is that AWD models have run-flat tires and no spare. The run-flat tires, specially developed by Bridgestone, offer improved safety and performance in the event of a puncture through unique cooling ribs on the sidewall. They are designed to provide the capability to safely drive to a repair location instead of stopping to change a tire, which can expose driver and passenger to traffic hazards and bad people. We would expect the run-flat tires would ride a little harder than regular tires, and wear a little differently because of their unique construction and rubber compound. Our conclusion is that the AWD would be worth the investment in areas where weather conditions demand superior traction, but less attractive to buyers who don't experience wintry weather.
Sienna Limited has steering tuned for ease of operation, with very high levels of power assist. We found the Limited easy to park and maneuver at low speeds, but it also required more attention to keep in the center of the lane driving quickly down a mountain road. The Limited is the kind of luxury wagon we would drive at a relaxed pace for almost any distance, just taking it nice and easy.
All Sienna models have huge rear doors for easy entry. Access to the second and third row is easier than any minivan we can recall, because the door is so large, and headroom is good. Also, because the second row seats are on long tracks, it's possible to move them all the way forward to access the third row, or all the way back to walk into the passenger area. We think it would be possible for an average-size person to step in with a car seat, fasten it down and walk out, without having to kneel or crawl around.
Sienna is well insulated against wind, engine, and road noise. Toyota engineers used every trick in the book, padding, phase-shifting techniques, noise cancellation, sound absorbing materials and better engineered seals in the doors, among others, to keep noise to an absolute minimum. These are quiet minivans.