2014 Toyota Tundra Summary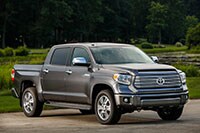 Toyota Tundra is a full-size pickup in every sense of the term, and is competitive with those from Ford, Chevy, GMC, Ram, and Nissan. The Toyota delivers power, payload and tow ratings to handle all but the heaviest loads or the largest trailers. Tundra is quite comfortable, and it's easy to drive. Tundra shoppers buying as a second car should first consider cab style and seating space. Those buying for truck use will first consider payload and cost. The next choice is either the V6 or one of two V8 engines, and finally the trim package or level of standard equipment. The Tundra offers models to suit the needs of the majority of buyers.
NewCarTestDrive.com correspondent G.R. Whale reported from California and Pennsylvania; with Mitch McCullough in California; J.P. Vettraino in Detroit; and Tom Lankard in Louisville, Kentucky.