2014 Toyota Tundra Walk Around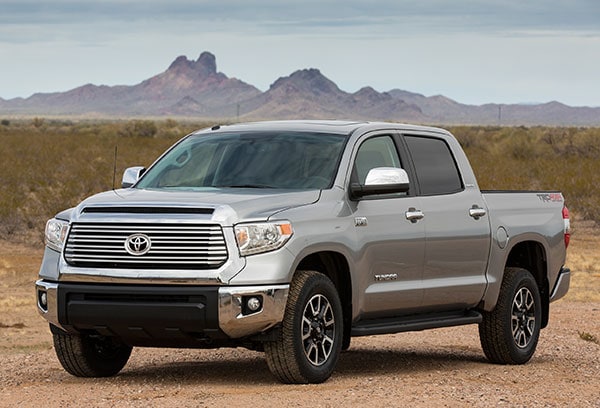 This second-generation Toyota Tundra is an honest-to-goodness, full-size pickup, regardless of how you measure. By wheelbase, width, track and height it is among the largest of half-ton pickups. Now squared off and angularized like a body-builder's jaw, it's the most visually imposing Tundra yet.
For 2014 the rounded lines that led to an inflated look are gone. The leading edge of the hood is more than an inch and a half higher than before but you don't notice from the driver's seat because the gain is all out front. And the bumper top is lower, so while SR/SR5, Limited, Platinum and 1794 all get different grille arrangements, those grilles are considerably larger than before. We won't call it blunt but it does suggest if you hit a wall you'll worry about the wall more than the truck.
Bumpers at both ends are sectional: If you bend a corner on a post you replace only the corner, not the entire thing. Fog lights are recessed for protection and headlights are single-bulb units; we couldn't verify performance given lightning activity, but every example we drove from SR5 to 1794 had a manual in-cab adjustment for vertical aim, handy for keeping light on the road with a load or trailer on.
We find the rear view more improved than the front, the completely horizontal aspect framed by chiseled vertical lights. The Tundra name is embossed in the lower right tailgate so no one will remove the name badge. The tailgate is damped to avoid a heavy thunk when opened, and every Tundra has a rearview camera adjacent the Toyota-stamped tailgate latch. Trailer plugs have been moved into the bumper: License plate lights illuminate the area at night. The downside: An aftermarket bumper calls for additional wiring work.
The horizontal styling lines carry the full twenty-plus feet, amplified by larger, squarer wheelwell openings fitted with deeper lines. It's labeled as new sheetmetal but the roof of every cab and the majority of the door panels look the same to trained observers, so any styling change in the doors is nominal.
All four-door Tundras offer running boards which take a couple of inches off the step-up height. Shorter drivers or those with suspect knees may appreciate them, others will only get their pants dirty or hang them up off the pavement somewhere.
Wheels vary in material and style with chrome covers available on the 1794, but we'd stick with the alloys it comes with.
Nothing stands out in the bed layouts or design, with plenty of molding for using 2x8s to create multiple load levels. A deck rail system along all sides except the tailgate offers tie-down cleats for better load securement.
Interior
A Tundra cab is big, regardless of which one it is. A Regular Cab will hold a standard 5-gallon paint bucket flat on the floor in back. Only an F-150 SuperCrew has more rear seat room than a CrewMax, and the Tundra Double Cab matches the new Silverado Double Cab for space.
Materials are generally appropriate. Base models can have rubber flooring rather than standard carpet, and even the fancy top-line models have easy-clean hard lower door panels where your boots wills scuff them.
Visibility from the driver's seat is very good. The bodywork corners are reasonably well defined, and the pillars aren't too big. Rear-seat headrests that are tall enough to protect a 6-foot, 3-inch rider drop forward allowing a good view through the rear window, and that defrostable window disappears vertically like an old tailgate, not just sliding the center section sideways. A rearview camera is standard on all models. Park sensors for both ends are available on upper trims.
The standard mirrors are large, and can be adjusted to deliver a panoramic view aft of the front doors. The optional tow mirrors (or preference) feature a large traditional element that's power operated, with a small convex mirror at the bottom that's manually adjustable. Adjusted properly there are no blind spots. The mirrors can be manually extended outward to help the driver see around trailers, and they can be folded inward when parked to reduce the chance of damage in tight quarters.
Front seats are comfortably cushioned but not too soft, with modest side bolsters to hold you in place without making entry/exit a chore. Deep seat bottoms provide ample thigh support, adjustable on some. The fabric upholstery feels durable and the leathers do to a varying extent; we were overtly cautious with jean rivets on the Platinum's diamond-quilted cowhide. We've found the seats very comfortable for towing thousands of miles.
The backrest on Tundra Double Cab rear seats is now reclined nearly twice the angle of before for better comfort. It's cozy for adults but not markedly more than a SuperCab, King Cab, Quad Cab or GM Double Cab. The cushions fold up in a 60/40 split for tossing large cargo on the floor.
CrewMax is the adult rear seat arrangement, with recline and essentially no less room or comfort than the front except your feet aren't resting on an angled floor. For 2014 this rear seat folds up just as the Double Cab, lowering the loading height and increasing storage space notably.
Tundra has its fair share of interior storage and conveniences. The passenger seatback in the Regular Cab folds forward to present a flat area for a desktop, and the front bench seat center section pivots forward to reveal an otherwise fully concealed storage compartment.
Storage for odds and ends and beverage containers to 22 ounces is plentiful and varies by cab and trim level. Bucket seats means a center console with padded armrest twice as wide on the driver side and plenty of capacity within. The floor shift is a gated unit that requires no thumb or finger button-pushing and never gets the wrong gear. The column shifter with manual +/- toggle is big, so big it might block some of the nav/audio screen for shorter drivers.
Ergonomics inside the Tundra are much better because the center dash controls are now in the center of the truck, not nearly three inches to the right. The top-right rotary knob is still a mild reach, but no longer feels like you're searching the glovebox for something. The omni-directional air vents get what you need where you need it, and the climate controls are easy to use. Only some ancillary dash switches adjacent the steering column may be difficult to see.
Gauges are clear white-on-black, only the base models lack a rev counter, oil pressure and voltage indicators; the transmission fluid temperature gauge has been replaced by a warning light. Bezel notches on the primary gauges match the gradations so they appear asymmetrical. The 3.5-inch display is easy to read and operate, in part because it doesn't offer as much information or configurability as most competitors.
Audio systems are new for 2014. All have iPod/USB integration, Bluetooth and a touchscreen display, with radio sources and voice recognition expanding by model. You can get navigation on an SR5 and the JBL sound system on a Limited, while Platinum and 1794 come with everything. However, even on a Platinum CrewMax with three power points there is only one USB port.