2014 Volkswagen Jetta Introduction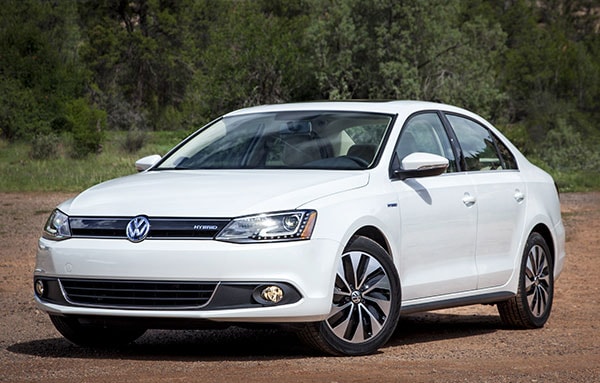 Volkswagen Jetta comes in a myriad of models and body styles. The current-generation Jetta sedan was introduced as a 2011 model to compete with the Ford Focus, Chevy Cruze, Mazda 3 and Honda Civic. The turbocharged Jetta GLI brought more content and power. Jetta TDI SportWagen, with its turbo-diesel direct-injection engine and available DSG twin-clutch auto-manual transmission, has been earning five-star reviews for its performance and fuel mileage. The Hybrid model joined the Jetta model line for 2013.
For 2014, there's a new engine to replace the stalwart five-cylinder (which lingers on in the SportWagen SE). The SE and SEL models come with a new 1.8-liter turbocharged four-cylinder that makes the same 170 horsepower as the old five-cylinder, with more torque (at a lower range), and getting 5 more miles per gallon. It's EPA rated at 26/36 mpg City/Highway.
Another significant change for 2014 is the scrapping of the torsion-beam rear suspension, which VW used in the 2011 redesign on S models, to keep the base price low. All Jettas now have a multi-link rear, which delivers a more compliant ride and precise handling.
The base Jetta S is very affordable but not the best value. It uses a single-overhead-cam 2.0-liter four-cylinder engine making 115 horsepower, with a 5-speed manual transmission standard and 6-speed automatic available. The engine is proven but it's slow and inefficient, rated 24/29 mpg with the automatic.
Our time in Jetta seats included 640 miles in the sporty GLI, with its 2.0-liter turbocharged engine boosted to 210 horsepower now, with premium fuel. It accelerates from 0 to 60 in 6.8 seconds, with the DSG twin-clutch automated manual transmission. The GLI offers a relaxed, refined sportiness.
We also did 340 miles in the 1.4-liter Hybrid, which comes standard with a 7-speed DSG transmission, different from the 6-speed DSG in the sedan, in that it's dry clutch rather than wet clutch. We got 35.0 miles per gallon combined city/highway driving, well below its rating of 42/48. It requires premium fuel, and has a smaller trunk to make room for the battery pack.
The Jetta TDI Sedan and SportWagen use the latest turbo-diesel direct-injection technology in their engine, a 2.0-liter making 140 horsepower and 236 pound-feet of torque, while getting 30/42 EPA-rated mpg. We hear frequent reports of drivers getting over 40. Emissions are low. The TDI is so good we don't see a reason for the Hybrid. Volkswagen boasts that it has the best acceleration, sportiest handling, most rear legroom and biggest trunk in the compact sedan hybrid class, so maybe that's their reason.
The Jetta looks plain to some people because it's clean and simple, with subtle curves and no sculpting; strong wheel arches, a smooth roofline and attractive C pillars. It's about the same wheelbase as the Ford Focus and Honda Civic, but a few inches longer. It feels bigger all around, more like a midsize car to us, because it's so solid.
The interior is practical and well thought-out, although hard plastics are used in some models to keep the price competitive with Ford, Chevy, Honda, Hyundai, Mazda et al. However the trim is tasteful and the standard cloth seats fit well, while the optional V-Tex leatherette upholstery passes easily for real leather. The trim in the SEL is upgraded, and in the GLI Autobahn with Navigation that we drove for one week, the ambiance is perforated leather.
The utility comforts are designed well: comfortable driver armrests, user-friendly cupholders, good door pockets and grab handles. Good headroom, and class-leading rear legroom, 38.1 inches, nearly as much as a BMW 7 Series.
Alas, not so with navigation. In our 2013 review of the Jetta we called it a nightmare; in 2014 we're calling it the Obamacare Website of navigation systems, so many fails we finally gave up. We don't have the space to name them, and you'd get bored hearing them. Other controls and instruments are excellent, including the gauges, climate and radio. The available flat-bottomed steering wheel with perforated leather is terrific.
The SportWagen SE is the only model that continues to use the 5-cylinder engine. SportWagen interior is equal to that in cars costing thousands more. Solid, soft-touch materials abound. Because of its shorter wheelbase, the wagon has less space than the sedan for passengers, with 2.6 fewer inches of rear legroom and 1 inch less headroom. Naturally there's more space for cargo, with 32.8 cubic feet behind the rear seats, and an SUV-like 66.9 cubic feet of space with the rear seats folded flat. It can be a great alternative to a crossover or SUV while offering outstanding fuel economy.