2014 Volkswagen Passat Introduction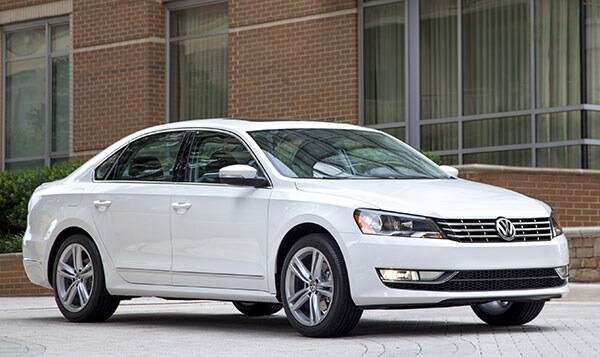 The Volkswagen Passat is a four-door midsize sedan designed to compete with the Toyota Camry, Honda Accord, Ford Fusion, Chevrolet Malibu, and Hyundai Sonata. Volkswagen's goal was to make the Passat the most American of any car VW builds. It was designed for Americans, launched as a 2012 model, and is built at a sparkling new assembly plant at Chattanooga, Tennessee.
A new turbocharged engine is available for the 2014 Passat, bringing the number of engine choices to four: the new 1.8-liter turbocharged, direct-injected four-cylinder, the original 2.5-liter five-cylinder, a 3.6-liter V6, and a 2.0-liter turbo diesel. The five-cylinder is being phased out and replaced by the more efficient 1.8-liter turbo four.
The new 1.8-liter turbocharged gasoline engine makes 170 horsepower (same as the five-cylinder) and 184 pound-feet of torque (an increase of 7 foot-pounds), all delivered at lower rpm than that of the five-cylinder. With manual shift, the turbo Passat gets an EPA fuel-economy estimate of 24/34 mpg City/Highway, 2-3 mpg better than the outgoing five-cylinder.
Passat 2.5L models come with the 170-horspower, 2.5-liter inline-5 mated with either a 5-speed manual or a 6-speed automatic transmission.
The TDI turbocharged diesel, which is unique in the market segment delivers an EPA fuel-economy estimate of 31/43 mpg City/Highway with manual transmission. The Passat TDI can be fitted with VW's slick direct-shift gearbox, or DSG, which is a twin-clutch, 6-speed manual transmission that shifts electronically, sans clutch pedal.
The top-of-the-line Passat 3.6L comes standard with the DSG and a VW-exclusive, 400-watt Fender sound system. Leather, navigation, a sunroof and keyless push button start/stop, along with other semi-luxury features, are available.
We found Passat ride quality comfortable without being soft, well tuned for American interstates. Handling is what most drivers expect from a mainstream, midsize sedan: predictable and forgiving, properly suited for the ins and outs of the daily commute.
Fit and finish has that Teutonic feel, with tight tolerances and quality materials. Nothing flashy, just solid, functional controls and easy-to-read gauges communicating the essential data. The optional wood grain looks better than the real wood in some higher-priced cars. Visibility is good, although there's a bit of blockage out the rear due to the three head restraints.
Also new for the 2014 Volkswagen Passat is a six-month, no-charge trial of VW Car-Net connected services, initially included on the Wolfsburg edition. Security/convenience features include automatic crash notification, roadside assistance, and stolen vehicle location assistance, as well as remote vehicle access and boundary/speed alerts.