2014 Volvo XC60 Driving Impressions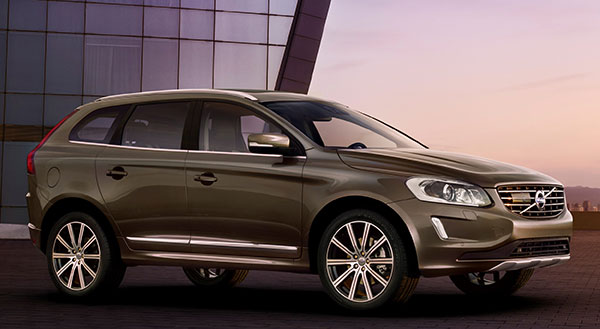 The Volvo XC60 defines the appeal of the so-called crossover vehicle. It's a fabulous compromise between what people want in a true, truck-based sport-utility and what they need for daily transportation. Beyond its flexible seating/cargo configurations, the XC60 is generally a comfortable, pleasant vehicle to drive. Not only is an XC60 compact and easy to park, it isn't mundane in a people-mover, family-wagon fashion.
The XC60 is tuned more for cruising comfortably on the highway or through town than for flinging around on back roads, or for travel where no graded roads exist. It provides moderate off-pavement capability, and not just the look that goes with a tall body or ride height elevated an inch or two. Its 3300-pound tow rating is substantial in this class, and the standard Trailer Stability Assist helps maintain stability while pulling a trailer.
The T6's turbocharged engine delivers refreshingly linear acceleration, not necessarily what you'd expect from a turbo. It also adds a bit of verve that the base, non-turbo engine lacks. Regardless, the base six-cylinder is torquey enough for everyday use, and we wouldn't hesitate to recommend it.
We liked the 6-speed automatic transmission best in Sport mode. Its well-executed sport setting re-assigns shift points to maximize the engine's power curve and extends the transmission's stay in each gear. Sport mode uses more fuel, but it suppresses unwanted hunting among gears when climbing or descending grades. Additionally, it suppresses the engine's tendency to surge unexpectedly as it acclimates to each gear change. The sport setting also allows a driver to choose a specific gear when desired. The automatic reasserts its own control to shift up or down at pre-determined engine speeds. In full Auto mode, when driven casually, shifts are smooth, if not invisible.
The full-time all-wheel-drive system operates seamlessly, and the driver will almost never know when it's working. In normal, good-traction conditions, 95 percent of the engine's power goes to the front wheels. If the front wheels lose traction, a multi-plate clutch begins routing power to the rear, to a maximum split of 65 percent to the rear wheels.
All-wheel drive on the Volvo is more an advantage for safe, secure forward progress in lousy weather than a true off-road tool. Still, with 9.1 inches of ground clearance, this crossover can traverse terrain that would be impossible in a conventional sedan, or in some other crossovers. Hill Descent Control adds some reassuring braking assist when navigating down a dirt trail.
The Volvo XC60 is lighter (and smaller) than the XC70 and XC90 crossover SUVs, but it has a relatively high center of gravity, combined with minimally bolstered seats and a largish steering wheel. These traits establish the XC60 more as an all-weather, long-distance cruiser than a canyon carver.
The suspension does a decent job taming different types and conditions of tarmac. Ride quality is a bit rough at times, more so with the more stiffly suspended R-Design models. Travel on rough pavement produces some head toss, which is not uncommon in the class. An Infiniti EX35 delivers a quieter ride than the XC60, while the BMW X3 and Acura RDX offer better steering feel.
The R-Design's stiffer suspension and 20-inch wheels with low-profile tires make the ride considerably rougher. Handling was good when charging corners, but maybe the stiff ride isn't worth it.
On the other hand, the hotter R-Design acceleration, with wider and bigger torque, is definitely worth it. The 6-speed automatic transmission doesn't have to do much kicking down, with all the power and torque at hand.
Brakes work very well, resisting fade, consistently and confidently slowing it from high speeds for cornering. Most of its optional lane departure and other proximity warning systems can be suppressed or turned off if the driver decides they're not needed.
The standard City Safety feature is intended to help avoid rear-ending the car ahead, or at least to minimize the damage. This system works at speeds of 2-18 mph. Up to 9 mph, it can stop the car before it hits a car in front. From that speed up to 18 mph, it can reduce significantly the force of the impact. Tested at just under 9 mph in a parking lot, it worked surprisingly sharply, jolting the driver and front seat passenger smartly into abruptly snugged-up seatbelts. We were glad it worked.