2014 Volvo XC60 Introduction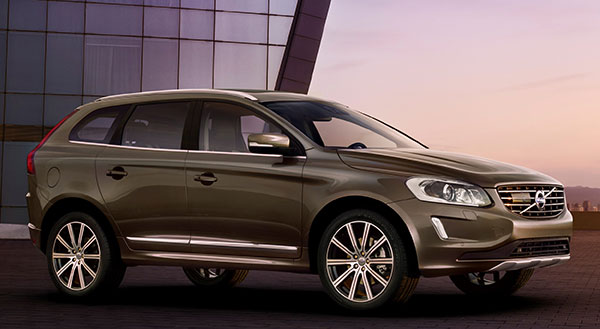 Launched as a 2010 model, Volvo XC60 is the smallest of the Volvo crossover family, which includes XC70 and XC90. A compact SUV about the size of a Honda CR-V, Volvo XC60 competes favorably with Acura MDX, Audi Q5, BMW X3, and Mercedes-Benz GLK. Three versions are available: XC60 3.2, turbocharged XC60 T6 AWD, and an R-Design model that develops even more power.
Volvo XC60 seats four quite comfortably, five with a bit of coziness, while offering more cargo space than nearly all competitors. XC60 looks like a smaller version of XC90, and it doesn't shout family-mobile.
The standard 3.2-liter six-cylinder engine easily meets the demands of daily driving, offering 240 horsepower and an EPA-estimated 19/25 mpg City/Highway with front-wheel drive. All-wheel drive is an option. Under the hood of the T6 AWD is a turbocharged 3.0-liter engine, generating 300 horsepower and 325 pound-feet of torque. The T6 gets an EPA estimate of 17/23 mpg City/Highway.
For those who value quick acceleration, a 325-horsepower version of the turbocharged engine is available, in the R-Design edition. Torque output is boosted by 29 foot-pounds. Like the T6 AWD, the all-wheel-drive R-Design is rated 17/23 mpg. All engines use Regular-grade gasoline.
Volvo has given the XC60 a fresh front-end look for 2014, including a new hood and front fenders, plus a revised grille with a larger Volvo iron mark. Headlights have been reshaped and a new lower front spoiler is bright-trimmed. New vertical LED daytime running lights are mounted, and Pan alloy wheels on the XC60 3.2 hold 18-inch tires. To improve handling, the base car gets new Corner Traction Control by torque vectoring. Inside are a new instrument cluster, three-spoke steering wheel, available wood trim on front door panels, stitching on door panels and armrest, white illumination for buttons (replacing green), and new front door sill plates. An enhanced tire pressure monitoring system tells whether a front or rear tire is low.
The Premier trim level gains an auto-dimming mirror, and an adaptive digital TFT display instrument cluster with three selectable themes. Premier Plus adds a rear park assist camera and quick-fold front passenger seat. Platinum gains auto-dimming, power-retractable mirrors. The optional Climate Package adds a heated windshield and steering wheel, while the Technology Package adds cyclist detection. A new Sport Package includes sport seats and 20-inch Titania alloy wheels. The Blind Spot Information System includes cross traffic alert, lane change merge aid, and front/rear park assist
Paddle shifters are new in the T6 AWD, which adds Advanced Quick Shift for 2014. In Sport mode, or when paddles are used, new software quickens gear-changes by 20-30 percent (50 percent, from First to Second gear). This cuts 0-60 mph acceleration from 6.9 to 6.5 seconds, according to Volvo.
A new Inscription Package includes Sovereign Hide soft leather seating surfaces, leather-covered dashboard, power lumbar support. New 20-inch Ixion alloy wheels go on the T6 R-Design. Premier Plus trim for the R-Design adds a rear park assist camera, while the Platinum trim get auto-dimming, power-retractable outside mirrors.
The XC60 is not the sportiest among the compact SUVs, but it handles well on city streets and highways. We ran it hard on curvy remote roads, and it responded well. It's easy to park, too, particularly with the optional rearview camera. The XC60 rides comfortably, brakes are superb, and its 6-speed automatic transmission is well tuned.
Volvo's full-time all-wheel-drive system works smoothly in the daily grind without a huge penalty in fuel economy (18/24 mpg in the base model). AWD is truly welcome when the weather gets foul or on gravel.
With all-wheel drive and 9.1 inches of ground clearance, the Volvo XC60 offers as much off-highway capability as most sport-utility buyers will ever need. It can handle backcountry trails, and the computer-managed Hill Descent Control makes creeping down steep inclines secure. An XC60 can tow 3300 pounds: a trailer full of snowmobiles or a small boat.