2014 Volvo XC70 Driving Impressions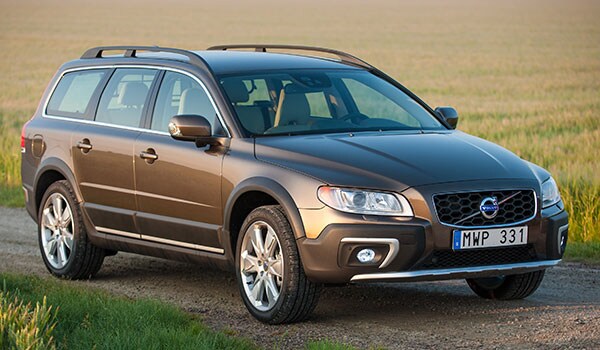 The Volvo XC70 is a superb vehicle for gravel roads. Yet it's also smooth, quiet and comfortable on the highway. Whether on pavement or gravel, it's more maneuverable than an SUV. Though big inside, its exterior dimensions seem relatively compact, and it's easy to park. An XC70 drives like a car, because that's what it is.
The XC70 comes with a 3.2-liter inline-6 that generates 240 horsepower at 6400 rpm, with 236 pound-feet of torque at 3200 rpm. It's matched to a 6-speed automatic transmission. The engine is mounted transversely (sideways), which is very unusual for a straight six, but contributes to the XC70's interior space.
Fuel economy is an EPA-estimated 19/25 mpg City/Highway. In states that follow California's tough emissions laws, a PZEV (Partial Zero Emissions Vehicle) version of the base model is sold, which trades 10 horsepower for lower emissions and better fuel economy.
Inline (straight) six-cylinder engines seem to power-up faster than the more common V6s, spinning more freely and smoothly. In a vehicle of the XC70's heft (4,147 pounds), Volvo's 3.2-liter engine doesn't qualify as a screamer, but it delivers acceleration-producing torque in a smooth, linear fashion. Breathing well at high rpm, it doesn't gasp or get rough if you run it near the redline. It accelerates eagerly from a stop, or for passing at higher speeds.
Volvo's 6-speed automatic transmission shifts in all the right places; and whether it's up a gear or down, those shifts are smooth, tight and relatively quick. Put it in Drive and go. Should the driver choose to get more involved, the Geartronic manual feature can be enjoyable. There are no paddle shifters behind the steering wheel, as many cars now feature, but there's a manual slot for the shift lever left of the normal gear-selection path. The up-down gear change action has a smooth, quality feel, and the transmission won't shift on its own if the revs get too high.
The XC70 T6 comes with a turbocharged 3.0-liter inline-6. The smaller displacement is more than compensated by the additional air pushed through by the turbocharger. Twin-scroll technology means it takes in exhaust gases in two stages, from three cylinders each. This in turn permits the use of a compact turbo rotor, for swift throttle response with the lowest possible fuel consumption. Maximum torque is on tap from just 1500 rpm and remains available all the way up the rev range. Compared to the normally aspirated XC70 3.2-liter, the T6 generates 60 more horsepower and 89 more pound-feet of torque. The EPA estimates T6 fuel economy at 17/23 mpg City/Highway.
The 2011 T6 engine was named one of Ward's Ten Best engines. Ward's noted that the Volvo T6 engine offered a delicious mid-range power band and paucity of turbo lag.
The XC70 rides comfortably and smoothly, and despite some fairly substantial suspension travel, it's not mushy. There's none of the stiffness or racket found in truck-based SUVs, either. The XC70 leans a bit in corners when driven aggressively, and pitches some between hard acceleration and hard braking. Yet not so much that it's not enjoyable. That same lean and compliance gives it excellent grip when cornering on gravel roads.
Brakes are superior to most. They stop the vehicle right now, with Electronic Brake-force Distribution to instantaneously balance stopping power front-to-rear, to the tires with the best grip. Braking distances are very long on unpaved surfaces, however.
All-wheel drive gives the Volvo XC70 handling stability in slippery conditions. The AWD normally delivers 95 percent of the engine's power to the front wheels, so the XC70 behaves like a front-drive vehicle. But if traction starts to degrade, as it might in snow, on dirt or on a rain-slick road, the all-wheel drive will send up to 60 percent of the power to the rear wheels. That would balance torque among the tires with the most friction underneath. The AWD system works well, and seamlessly. Few drivers will ever notice when it shifts power between the front and rear wheels.
Dynamic Stability and Traction Control uses sensors to monitor forward or lateral movement. If it detects a potentially dangerous sliding movement under any of the four tires, it automatically tries to correct the instability by braking one or more wheels or throttling back the engine.
Hurtling down unpaved logging roads showed off the stability, handling and ride of the Volvo XC70. The all-wheel drive made driving around corners easy and predictable on gravel, dirt, and mud as snow began to fall. The suspension had just the right amount of compliance to keep the tires to the trail, yet gave the driver lots of control.
The Volvo XC70 has good, long suspension travel, plus 8.3 inches of ground clearance, which is taller than most crossovers and many truck-based SUVs. That means a bumper is less likely snag on something when traversing a deep rut or nosing up a steep rise. The standard skid plates offer an element of protection for underbody components if an XC70 encounters fallen tree limbs or large rocks. Unlike Volvo's larger XC90 SUV, the XC70 was developed for serious outdoor enthusiasts.
Hill-Descent Control works great, managing the throttle and braking and minimizing slides on the way down fairly steep dirt surfaces. With HDC, the car is slowly lowered down a steep descent. All the driver has to do is steer, feet off the pedals. With all-wheel drive and Hill-Descent Control, the XC70 can traverse some truly primitive roads, limited only by ground clearance.
We drove a previous-generation XC70 down Mexico's Baja Peninsula over some of the same rocky roads used in the Baja 1000 off-road race, and up the icy haul road that runs along the Trans-Alaska Pipeline. That XC70 was a great partner, but we can say the current-generation model is superior.