2015 Acura ILX Introduction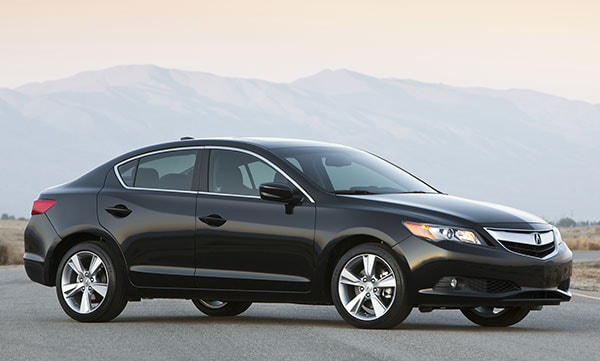 Introduced as a 2013 model, the Acura ILX is a premium compact sedan. For 2014, Acura ILX got more standard features, including upgraded 17-inch alloy wheels, new leather seating surfaces and leatherette door liners. An eight-way power driver's seat became standard, along with heated front seats and a Multi-Angle rear-view camera. Active Noise Cancellation was another new standard feature, promising a quieter cabin.
Apart from one new body-color choice, nothing changed for the 2015 model year. The hybrid gasoline/electric version of the ILX has been discontinued, after a short run in the marketplace, leaving only two powertrain choices. ILX will be further revised for the 2016 model year.
The Acura ILX is reasonably roomy by compact car standards. Two average-size adults can ride comfortably in the rear, with only minimal cooperation from front-seat occupants. Like almost all sedans in this premium compact class, the ILX is rated for five passengers, but that center rear position is only suitable for someone of diminutive stature, or someone you don't like.
Acura ILX shares its basic structure and powertrains with the Honda Civic, though there are as many hardware distinctions as there are similarities: Both the styling and the exterior dimensions are different. No sheetmetal is shared between the Honda and the Acura. The Acura ILX also gets more powerful engines and a more advanced front suspension. So, they are hardly the same.
Inside, the Acura ILX cabin is furnished with high-grade premium materials, with no sign of the interior cost-cutting that diminishes the latest Civics. In addition, the ILX benefits from more sound-deadening measures. Acura also claims higher rigidity for the ILX's unibody, which results in a smoother ride and better handling.
The Acura ILX rides a shorter wheelbase (105.1 inches versus 106.3), and is longer, lower, and wider than the Civic sedan: The ILX measures 179.1 inches overall, 70.6 inches wide, and 55.6 inches tall. Also, the ILX is distinguished by its more sophisticated double-wishbone front suspension.
The entry-level Acura ILX comes with a 150-horsepower 2.0-liter four-cylinder engine, driving a 5-speed automatic transmission with Sequential SportShift and Grade Logic Control. Stepping up a notch, the Acura ILX 2.4L is motivated by a 201-horsepower 2.4-liter four-cylinder engine, paired with a close-ratio 6-speed manual gearbox (no automatic option with the 2.4-liter).
Fuel economy is significantly better with the smaller engine, though both demand Premium gasoline. The Environmental Protection Agency (EPA) rates the 2015 Acura ILX 2.0-liter at 24/35 mpg City/Highway. With the 2.4-liter engine, EPA-estimated mileage drops to 22/31 mpg City/Highway for the ILX.
Acura ILX competes against the Audi A3, Buick Verano, and Volkswagen CC.