2015 Acura MDX Introduction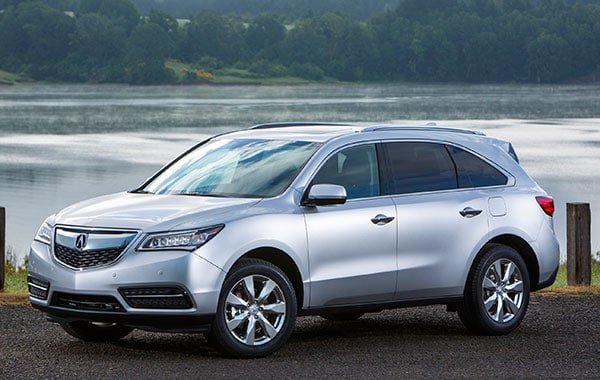 Acura MDX is a rare animal, a seven-passenger luxury crossover with high performance. It's unchanged for 2015 because the 2014 was new from the ground up. Compared to the previous generation, MDX has quicker acceleration, better fuel mileage, more room and comfort inside, tighter dimensions outside, a longer wheelbase, nimbler handling, shorter stopping distances, and a better ride. It's longer, lower, lighter, and narrower at the nose, sides and rear, with its shape driven by the wind tunnel.
Acura MDX might be cross-shopped with Infiniti QX60 or Volvo XC90. The MDX is more powerful and fuel-efficient than either, with nimbler handling than the XC90 and a better ride than the soft QX60.
The MDX design was developed at Honda's R&D facilities in Ohio. There, with a rolling ground plane and computer modeling, engineers worked on the underbody and airflow through the engine compartment, as well as the skin, to get the coefficient of drag down and the fuel mileage up.
The 3.5-liter V6 is Acura's first direct-injected engine, incorporating a new i-VTEC valvetrain with two-stage Variable Cylinder Management, cutting the fire to three cylinders at times. Its architecture comes from Acura's successful endurance racing engine, a 60-degree aluminum V6, single overhead cam with 24 valves. It makes 290 horsepower and 267 foot-pounds of torque, with a lot of it down low where you need it. The engine is mounted transversely, which improves balance enormously.
It's coupled to a smooth 6-speed automatic transmission with three modes and paddle shifters. With SH-AWD, the torque moves between the front and rear axles and left and right rear wheels, to deliver all-weather traction and control.
Fuel economy is an EPA-rated at 23 mpg Combined for the front-wheel-drive MDX, compared to 21 mpg Combined (18 City/27 Highway) for the all-wheel-drive MDX with Acura's SH (super handling)-AWD.
In 302 miles behind the wheel of a fully loaded 2015 MDX SH-AWD, both city and highway, we averaged a good 24.7 miles per gallon. The bad news is that Premium fuel is recommended, and needed to get the best mileage. Direct injection engines manage fuel in a precise manner, but their high compression ratio needs high-octane gas.
Interior materials are of soft and high quality, with standard premium leather and simulated wood-grain trim. The backlit LED gauges are lovely and clear, and the instrumentation well organized. Touch-screen control of the higher-tech available features is problematic. Voice command was so deaf we gave up.
Acura calls its body structure ACE, for Advance Compatibility Engineering. It's designed to absorb and deflect frontal crash energy, while isolating the cabin from destruction. It uses the world's first ultra-high-strength hot stamped steel, in what's basically a cage around the cabin, from front doors to A-pillars to roof rails to B-pillars to lower frame members.
The MDX has won many awards, in addition to five-star crash ratings from NHTSA for frontal and side impact for 2014, and four stars for rollover resistance, as well as a Top Safety Pick from the Insurance Institute for Highway Safety (IIHS).