2015 Acura TLX Driving Impressions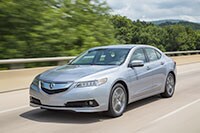 Our day-long test drive started in a TLX 3.5L SH-AWD with Advance Package then transitioned to a TLX 2.4L with Technology Package. The most noticeable difference seemed to be the additional performance from the V6 in the TLX 3.5L, which served up 84 more horses and 85 more pound-feet of torque over the four-cylinder engine of the TLX 2.4L.
The 2.4-liter four-cylinder in the TLX 2.4L delivered surprisingly strong mid-range torque and wound to its 7000-rpm redline with joy (and a bit more noise) and was nearly as enjoyable as the 3.5L to drive aggressively on the variety of challenging, twisty, often rough-surfaced Northern Michigan two-lanes we encountered on our prescribed test route.
Both the V6's SH-AWD and the front-wheel-drive four's P-AWS provided deliciously crisp and athletic handling, while the electric power steering served up feel and response nearly as satisfying as that of a typical mechanical/hydraulic system.
Both the four-cylinder's 8-speed torque-converter DCT and the V6's 9-speed automatic snapped off quick shifts on their own or when prompted by the steering wheel paddles. The four-mode Integrated Dynamics System (IDS) offered noticeable dynamic differences: ECO was lazy, Normal was agile yet smooth-riding, Sport was crisper but stiffer and Sport+ was rough but race-track-ready in terms of throttle, steering, shifting, ride and handling responses.
We did not encounter stop-and-go traffic so we cannot report on the adaptive cruise, lane keeping or other driver assistance and safety systems that have become near ubiquitous on well-equipped vehicles these days, but we can tell you that the brakes were powerful and fade-free all day, no matter how hard we used them.