2015 Acura TLX Introduction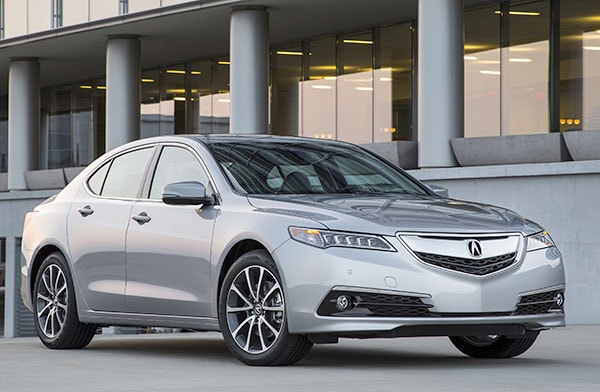 Way back in the mid-1980s when Honda's luxury brand was new, Acura's best car was the mid-size Legend. Available as a sedan or sport coupe, the Legend was a very good car for its time wearing a truly great name, unlike today's three-letter labels. We think the 2015 TLX is the closest thing yet to being Legend's long-awaited heir.
The 2015 Acura TLX is an all-new model logically positioned midway between Acura's compact ILX and its flagship RLX. The Acura TLX replaces both the TSX and TL. And, for a split personality as a refined country clubber that can mix it up with the best four-door automotive athletes, Acura loaded it with a unique blend of highly effective technologies.
The 2015 TLX comes in three flavors: The Acura TLX 2.4L comes with a 206-hp 2.4-liter i-VTEC four-cylinder and an innovative new 8-speed dual clutch transmission; the Acura TLX 3.5L features a 290-hp 3.5-liter i-VTEC V6 with a new 9-speed automatic; while the TLX 3.5L SH-AWD adds Acura's next-generation Super-Handling All-Wheel Drive.
We have driven all the models and found the new Acura TLX boasts crisp steering and excellent handling along with pleasingly quiet, road-smoothing ride. Some of this is owed to its new Motion-Adaptive Electronic Power Steering, its Amplitude Reactive Dampers.
We found the 2.4-liter engine that comes standard to be surprisingly powerful with good torque. This engine uses direct fuel-injection and iVTEC (Intelligent Variable Valve Timing and Lift Electronic Control) to deliver 206 horsepower and 182 pound-feet of torque. The Sequential SportShift transmission with paddle shifters delivers ultra-quick shifts among closely spaced ratios with automatic rev-matching downshifts, which gives it an eager sports sedan personality. This is the world's first dual-clutch transmission with a torque converter, whose role is to smooth stop-and-go driving while multiplying torque for better off-line acceleration compared to a typical DCT.
For those wanting still-stronger performance, the direct-injected aluminum V6 offers 290 horses and 267 pound-feet of torque. The V6 uses Variable Cylinder Management, or VCM, which deactivates three of its six cylinders for improved fuel efficiency when lightly loaded. When teamed with SH-AWD, it also has a fuel-saving idle-stop feature.
Two-wheel-drive TLX models with either engine come with Precision All-Wheel Steer (P-AWS), which points their rear wheels slightly in the opposite direction as the fronts to improve maneuverability in low-speed turns and in the same direction in higher-speed maneuvers to enhance stability. A handful of automakers have toyed with optional rear-wheel steer in the past but have found few takers, mostly due to high cost. This one is standard, it works exceedingly well, and it does so completely transparently.
Acura's latest Super Handling All-Wheel Drive (SH-AWD) is a new lighter, lower-friction, hydraulically controlled design that provides more torque-vectoring across a broader spectrum of driving conditions to improve cornering capability in low-speed and tight-radius corners. Both of these systems are aided by Agile Handling Assist (AHA), which blends light braking and Vehicle Stability Assist (VSA) to help pivot the TLX into, then stabilize it through, high-speed and near-limit-handling curves.
Acura's Integrated Dynamics System (IDS) offers selectable ECON, Normal, Sport and Sport+ modes that let you customize the TLX's dynamic responses. Each determines its power-steering effort, throttle response, transmission shift logic, HVAC system operation, and control logic for the P-AWS or SH-AWD systems.
On the safety side, the 2015 TLX is Acura's first vehicle with a new monocular camera and millimeter wave radar that work together to expand both the accuracy and scope of its road-sensing skills. This combination of camera and radar technology improves the capabilities of the Adaptive Cruise Control and available Collision Mitigation Braking System (CMBS) to better prevent or mitigate both car-to-car and car-to-pedestrian mishaps.
The 2015 TLX is the first Acura with a new Road Departure Mitigation (RDM) system. Included with the Advance Package, it uses the monocular camera to recognize lanes and road edges, then warns you and applies corrective steering and even braking if necessary to keep you in your lane if it senses that your projected path is heading out of it.