2015 BMW 3 Series Summary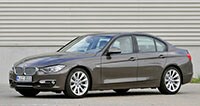 With a dizzying combination of engine options and body styles, the 2015 BMW 3 Series remains an outstanding choice in its class. The sedan is arguably the best in its class, with a diesel option that's smooth and efficient. Sport Wagons retain the sedan's precise dynamics while offering more space.
NewCarTestDrive.com editor Mitch McCullough filed this report from Monterey, California, with Laura Burstein reporting from Los Angeles.