2015 BMW 3 Series Introduction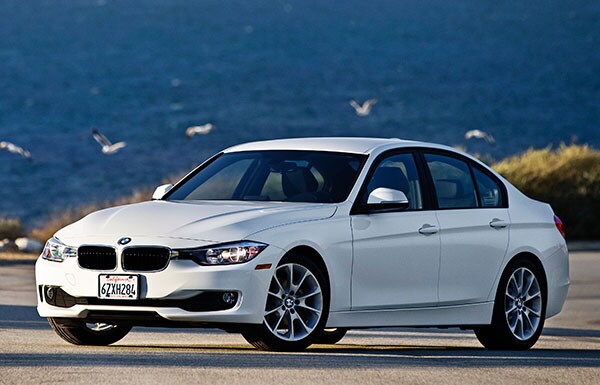 Still one of the best sports sedans on the market, the BMW 3 Series continues into the 2015 model year with only a few changes in features, such as Bluetooth audio streaming, which comes standard. With a variety of powertrains and body styles, the BMW 3 Series offers stylish design, the latest in-car technology and best-in-class driving dynamics.
A dizzying number of models comprise the 2015 BMW 3 Series lineup. Sedans are available in gasoline and diesel variants, most with a choice of rear-wheel or all-wheel-drive. There's the entry-level BMW 320i, powered by a 2.0-liter turbocharged four-cylinder engine; the popular BMW 328i and BMW 328i xDrive, with a more powerful version of the same engine; the exhilarating BMW 335i, with a turbocharged 3.0-liter inline-6 that makes 300 horsepower and 300 pound-feet of torque, and the efficient BMW 328d and BMW 328d xDrive diesel sedans, which use 2.0-liter turbocharged four-cylinder diesel engine that makes 180 horsepower and 280 pound feet of torque, the latter available at just 1750 rpm.
Sports Wagon body styles offer more space than the sedan, with car-like performance and maneuverability. They're available only with turbocharged four-cylinder engines, powered by either gasoline (328i xDrive) or diesel (328d xDrive). As the xDrive model name suggests, Sports Wagons come only with all-wheel drive. Cargo space in the wagon is plentiful at 17.5 cubic feet with the rear seats in place, enough for two large suitcases and multiple small carry-ons.
The 2015 BMW 3 Series GranTurismo is the roomiest of the bunch, with a more upright shape compared to the wagon. It's available in BMW 328i xDrive and BMW 335i xDrive variants (gasoline only) and comes exclusively with all-wheel drive. The GranTurismo offers nearly 3 inches more rear legroom than either the sedan and wagon, and boasts 18.3 cubic feet of cargo space with all seats in place.
As before, 3 Series models are available in different lines, including Luxury, Sport and M Sport, each with its own unique exterior and interior trim. The different trim levels available on the sedans also have unique features on the inside. Each line lends the 3 series its own character, from warm and modern to cool and athletic.
Refined handling and BMW's classic 50/50 weight distribution make all 3 Series cars a joy to drive. With the switch of a drive mode, any variant can go from comfortable daily driver to racy canyon carver. Engine, transmission, steering and brakes work in harmony. The 328 gasoline engine is perfectly suited to everyday driving, while the BMW 328d diesel engine excels when it comes to long-range efficiency. The BMW 335i is the most fun, however, with its powerful engine and plentiful torque.
The 2015 BMW 3 Series sedan remains the benchmark among luxury sport compact cars such as the Audi A3, Cadillac ATS, Infiniti Q50, Lexus IS and Mercedes-Benz C-Class. Though all offer similar dimensions and features, none can quite match the weight balance and performance-oriented dynamics of the BMW. Sports Wagons have fewer competitors, and include the Audi Allroad, as well as the smaller Audi A3 sportback, which are both also available with a diesel TDI engine. Volvo offers the utilitarian XC70 and the most stylish V60, both of which start at about $5,000 less. The 3 Series Gran Turismo lacks any apples-to-apples competitors, though it's a viable alternative for drivers who want more space without the stigma of a station wagon.