2015 BMW 4 Series Driving Impressions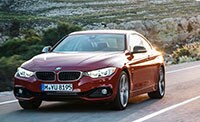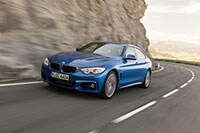 The BMW 4 Series coupe is fun to drive in practically any situation, and both of the available engines are more than capable.
Like other BMW models, the 4 Series allows drivers to choose from four modes: Comfort, Sport, Sport Plus and Eco Pro. Each tweaks throttle response, steering and handling for a distinctly different ride. Comfort is the best for normal driving around town. We prefer Sport mode for spirited driving and twisty roads. Sport Plus is best left to the track or autocross course, as it reduces the invasiveness of stability control and therefore requires more active, skilled driving. Eco Pro mode is designed to improve fuel efficiency, though it comes at the expense of power. We found this mode best for steady freeway cruising. In addition, all 4 Series models have an automatic stop/start function intended to save fuel.
The 4 Series has the lowest center of gravity of all BMW models, and this is evident in the form of a composed ride and virtually nonexistent body roll when putting the car through its paces. Handling is excellent on all variants, and each offers a good balance of ride quality and response. One of our test cars, a 428i Coupe, was fitted with the Dynamic Handling package, which adds an adaptive M suspension and variable sport steering. The electric steering is light at low speeds, with proper resistance and feedback at higher speeds. Near-50/50 weight distribution leaves the driver in full command. Braking is excellent in all models, especially those equipped with the M Sport's giant rotors. Our biggest complaint was some road and tire noise, which was evident at all speeds, and especially pervasive on highly textured road surfaces.
We found the power of the 428i perfectly ample, and prefer this variant for everyday driving. It's best in Sport mode, though as always, performance comes at the expense of fuel economy. The 2.0-liter inline-4 isn't BMW's best-sounding engine, as the clatter of the direct-injection can be noisy at lower speeds. But it delivers plenty of pep, with its 241 hp and 258 lb.-ft. of torque available from as low as 1200 rpm. The efficient motor is just as content on a daily commute as a long road trip, with its limits becoming apparent only in the most demanding situations, such as passing while traveling up a steep grade at high speeds. Only then will it become apparent that the powertrain is working hard, with the accompanying whine to prove it. Otherwise, getting to just about any speed is a breeze.
The 435i's turbocharged six-cylinder engine is the most fun, and produces a more satisfying purr. Its 302 hp and 395 lb.-ft. isn't necessary for most drivers, though you'll certainly notice and appreciate the extra power when you put the pedal to the metal.
Although BMW still offers a 6-speed manual on most 4 Series variants, we're finally starting to admit that the 8-speed automatic might be the better choice. Not only does the automatic achieve better fuel economy ratings over the 6-speed manual, it's also faster; a 435i coupe equipped with the automatic achieves a quick 0-60 mph time of 5 seconds flat, compared to 5.3 seconds with the manual. Those who really want to change their own gears can use the 8-speed's included paddle shifters.
Gran Coupe models are fitted with the same engine and transmission choices. Although it sits slightly higher than the coupe and convertible and has a different back end, we don't particularly notice a difference in driving dynamics. Indeed, the Gran Coupe performs with just as much as balance and maneuverability as its two-door counterparts. Like the 428i coupe, we found the four-cylinder turbocharged engine on the 428i Gran Coupe fun and capable in nearly every driving scenario. Driving around town is pleasurable with plenty of low-end torque, providing pleasurable pep off the line and when passing.
As with the standard 4 Series coupe, the 435i Gran Coupe performs effortlessly on demanding roads at higher speeds. On the Palms to Pines highway, a beautifully winding mountain road through the San Jacinto mountains outside of Palm Springs, we put our 435i Gran Coupe through the wringer, dashing around tight turns, climbing to elevations of 4,000 feet. Despite the higher elevation, we didn't notice the turbocharger struggling for breath. On the way down, we kept up just fine with the Aston Martin V8 Vantage in front of us, despite its 120 horsepower advantage.