2015 BMW 5 Series Introduction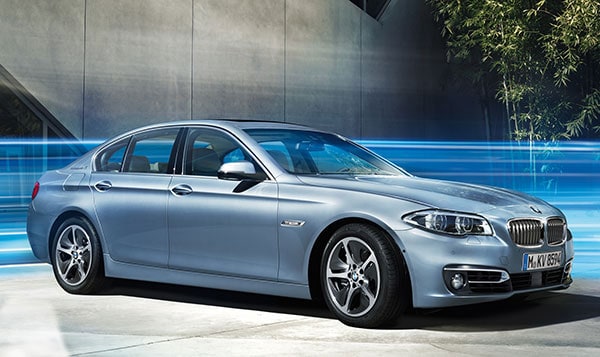 Like a versatile actor, the BMW 5 Series is capable of playing many roles. It's a comfortable commuter, a roomy family car, and a capable sports sedan. It offers dynamic performance and handling, and can carry four passengers easily without feeling too cavernous.
Changes for 2015 are minor, and include a few new standard features that previously cost extra like Bluetooth audio streaming, a leather sport steering wheel and LED foglights. Luxury and M Sport trim lines continue, the Modern Line is discontinued. The current-generation 5 Series was launched for 2011 and updated for 2014.
The BMW 528i is powered by a 2.0-liter turbocharged four-cylinder; the BMW 535i uses a 3.0-liter turbocharged six-cylinder. Line-topping 550i models use a 4.4-liter V8, good for 445 hp, and 480 lb.-ft. of torque. It's the fastest of the bunch, and BMW says the 550i can speed from 0-60 mph in 4.5 seconds.
Perhaps our favorite variant is the diesel-powered 535d, which uses a turbocharged, 3.0-liter six-cylinder engine that makes 255 horsepower and 413 pound-feet of torque. Not only does it get an EPA-rated 26/38 mpg City/Highway, but diesel's well-known range helped our 535d test car go more than 500 miles on a single tank, and that's with spirited driving. Although it has a $1,500 price premium over the gasoline-powered 535i, those who travel long distances, especially at highway speeds, could be very satisfied with their return on the money.
The odd duck of the bunch is the Gran Turismo, which has more space for people and cargo, but whose high, boxy rear might not appeal to everyone. The GT's wheelbase is four inches longer than other 5 Series models, with a long hood and a low, coupe-like roofline. The Gran Turismo comes in two versions: the 535i GT with the turbocharged inline-6, and the 550i GT with the V8. Each is available with xDrive all-wheel drive.
All 5 Series models come standard with an 8-speed automatic transmission.
Inside, materials and quality as are expected from a BMW, whose interior designs are often more interesting, with a variety of textures and colors, than the more austere Audi, yet not as daring as the swoopy, angular lines employed by Cadillac. Navigation comes standard on all models, as well as the iDrive interface, which uses a touchpad on top of the rotary controller that lets users draw letters and numbers with a fingertip, instead of scrolling through characters on the screen.
The performance-oriented M5 sedan is equipped with a 560-horsepower V8, available with a 6-speed manual 7-speed dual-clutch transmission with paddle shifters. Although it has the same amount of space as its more practical counterparts, the M5 feels tight and compact on the track, the sign of a well-engineered car. On an autocross course at BMW's new Performance Center in Thermal, California, near Palm Springs, we turned the fastest lap of the bunch thanks to the M5's powerful engine and lightning-quick dual-clutch gearbox. While others preferred to manually shift with paddles, we put it in Drive and let it do its thing. In Sport + mode, we had the perfect balance between slip and control, sliding around corners without knocking down cones.
Competitors to the 2015 BMW 5 Series are formidable, including the Audi A6, the Cadillac CTS, Lexus GS and Mercedes-Benz E-Class. Those considering the 5 Series Gran Turismo might also consider the elegant Audi A7, with its superior looks and ample cargo space. Although in our book nothing matches the M5 on the track, those interested in a high-powered midsize luxury sedan could also consider the Jaguar XF-R and the Mercedes-Benz E63 AMG.