2015 BMW M3 Introduction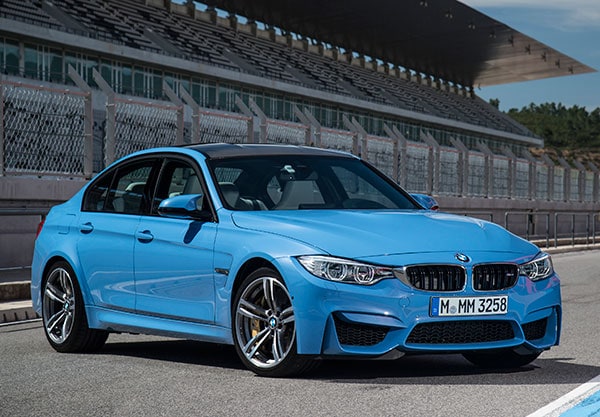 Beloved by enthusiasts for its track-worthy performance and daily drivability, the BMW M3 is all-new for 2015. This marks a triumphant return for the high-performance four-door, which has been on hiatus since the 2011 model year.
The fifth-generation M3, internally dubbed F80, gets significant revisions over its predecessor. The old V8 engine is gone, and a new version of the much-loved inline-6 returns. This time, it's a high-revving 3.0-liter turbocharged six-cylinder that cranks out 425 horsepower and 406 pound-feet of torque, the latter on tap from as low as 1850 rpm. With the optional 7-speed dual-clutch transmission, the 2015 BMW M3 can dash from 0-60 mph in an estimated 3.9 seconds, or in 4.1 seconds with the 6-speed manual.
As before, all M3 sedans are rear-wheel drive. And as part of BMW's new nomenclature, the M3 comes only with four doors; the M-powered coupe is now known as the M4.
This is the first time a new generation of M3 has gotten lighter compared with its predecessor; in the past, enthusiasts have bemoaned the weight gain with every new model. More extensive use of lightweight materials, including a carbon fiber driveshaft, carbon fiber roof, and aluminum hood and doors help this fifth-generation F80 M3 drop about 180 pounds compared with the fourth-generation e90 M3.
Another significant change includes the switch to electromechanical steering. While old-school fans might complain about the loss of hydraulic power steering, we found the feel precise and direct, with three modes that allow drivers to choose the level of steering effort.
Handling is aided by a new five-link rear suspension, which is mounted directly to the body, giving the M3 a much stiffer ride and more direct road feel. Most components are also made out of aluminum, rather than steel, shaving off more weight. The only downside with the new setup is that it produces more road noise.
Track junkies will lust after the optional carbon ceramic brakes, an $8,150 option that is really more like $9,350, since it requires the addition of optional 19-inch wheels. Carbon ceramic brakes offer heart-stopping performance and dissipate heat better than standard iron brakes, making them a better choice for track events or mountain roads where repeated hard braking is used, but most drivers do not need them.
As precise as the M3 is on the track, it's equally impressive as a daily driver thanks to a comfortable rear seat and ample trunk space; 60/40-split folding rear seats make it even more versatile. Interior design is anything but understated, with available two-tone leather combinations and contrast stitching around the doors, dash, and M steering wheel.
BMW's widescreen display and iDrive controller come standard on the 2015 M3. BMW apps lets users access a variety of audio and entertainment features, including a new GoPro app, which lets drivers control a car-mounted GoPro camera (sold separately) directly from the iDrive interface.
Fuel economy for the 2015 BMW M3 is an EPA-estimated 17/26 mpg City/Highway with the 6-speed manual gearbox, 17/24 mpg with the 7-speed automatic; Premium gasoline is required by the M3. Those fuel economy estimates are substantially improved over 2011 M3 sedan's 14/20 City/Highway figures.
Always a benchmark in the luxury compact sports segment, the 2015 BMW M3 Series is poised to continue its reign as the leader of the pack. Its closest current competitors include the Cadillac CTS-V, which makes a segment-topping 556 hp and 551-lb.-ft. of torque from its supercharged V8, and the Mercedes-Benz C63 AMG, powered by a 451-hp V8 engine. Yet neither surpasses the BMW when it comes to the total package of design, performance and brand cache, and that certain je ne sais quoi for which the M3 has always been known.