2015 BMW M4 Introduction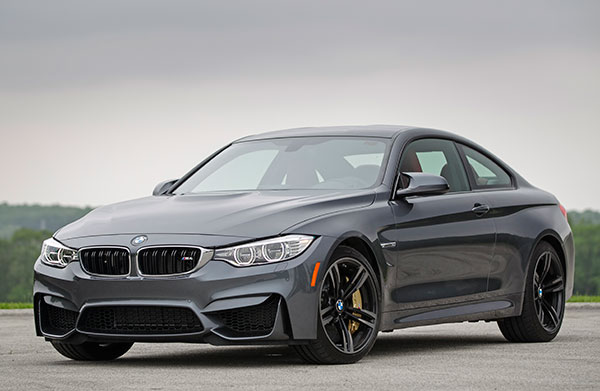 The high-performance BMW M4 is all-new for 2015, a sleek, powerful coupe that takes its place alongside the venerated M3 sedan in BMW's track-ready M lineup. Based on the 4 Series, the 2015 BMW M4 replaces the last-generation two-door M3, in line with BMW's latest nomenclature that uses odd numbers to denote sedans, and even numbers for coupes.
While the M3 is a great all-around sedan that can go from the track to the grocery store with daily-driver practicality, the M4 looks more like a true sports car. Unlike the M3's more upright stance, the BMW M4 is slightly leaned-back, with a signature BMW twin kidney grille that is ever-so-slightly lower and wider. Large front air intakes are functional and give the M4 an aggressive look. Vertical vents alongside the front fenders channel air down the sides of the car. A rear integrated lip spoiler keeps the car planted, while a smooth underbody and rear diffuser help the M4 to slice through the air with as little resistance as possible. And although the M4 also has a backseat, it's the kind of car you'd prefer to drive alone, or with one great friend.
Under the hood, the 2015 BMW M4, internally dubbed F82 by BMW, shares the powerplant found in the new M3: a 3.0-liter turbocharged inline-6 that churns out 425 horsepower and 406 pound-feet of torque, the latter on tap from as low as 1850 rpm. With the optional 7-speed dual-clutch transmission, the 2015 BMW M4 can dash from 0-60 mph in an estimated 3.9 seconds, or in 4.1 seconds with the standard 6-speed manual. All M4 coupes are rear-wheel drive.
Compared with the last-generation M3 coupe, the M4 is substantially lighter, thanks in part to a body that uses a greater percentage of aluminum and carbon-fiber-reinforced plastic. Like the M3, the M4 gets a carbon fiber driveshaft and roof. On M4 coupes, the trunk lid is also made of carbon fiber.
Another significant change includes the switch to electromechanical steering. Fans of hydraulic power steering tend to complain that electric systems are numb and unresponsive, but we found the M4's feel precise and direct. Drivers can also select from three modes that adjust the level of steering effort, independently from suspension and throttle settings.
Handling is aided by a new five-link rear suspension, which is mounted directly to the body, giving the M4 a stiffer ride and more direct road feel. Most components are made out of aluminum, rather than steel, shaving off more weight. The only downside with the new setup is that it produces quite a bit of road noise.
Optional carbon ceramic brakes offer heart-stopping performance, but also near-heartbreaking prices, as it's a $8,150 option that is really more like $9,350, since it requires the addition of optional 19-inch wheels. Also optional is BMW's adaptive M suspension, which lets drivers choose between Comfort, Sport and Sport Plus modes.
Inside the cabin, there's signature M stitching around the doors, dash, and sport steering wheel. Standard upholstery is a cloth/leather combination; options include a gorgeous orange and black two-tone combination with buttery Merino leather. BMW's widescreen display and iDrive with BMW apps come standard. For the track day crowd, there's a new GoPro app, which lets drivers control a car-mounted GoPro camera (sold separately) directly from the iDrive interface.
Although it's perhaps not as practical as its four-door counterpart, the M4 can still carry people and cargo with relative ease compared to many sports cars. Trunk space measures nearly as much as the M3, and 60/40-split folding rear seats allow even more versatility.
Fuel economy for the BMW M4 is an EPA-estimated 17/26 mpg City/Highway with 6-speed manual, 17/24 mpg with 7-speed automatic; Premium gasoline is required. That's a big improvement over the V8-powered 2013 M3 coupe's 14/20 mpg.
The closest competitor to the 2015 BMW M4 is the 450-hp, all-wheel-drive Audi RS 5 coupe. Though, for the money, those seeking head-turning sports coupes could also get the handsome (but less powerful) base Jaguar F-Type Coupe, Lotus Evora, or a nicely loaded Chevrolet Corvette Stingray.