2015 BMW X6 Introduction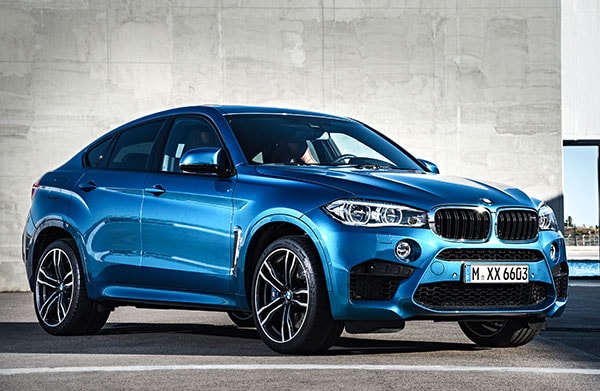 The BMW X6 is completely redesigned for the 2015 model year, marking the second generation of what BMW calls its first Sports Activity Coupe. Rear-wheel-drive and all-wheel-drive versions are available.
Built on the same bones as the utilitarian X5, the four-passenger BMW X6 challenges traditional notions of utility vehicles with its low, coupe-like roofline and refined driving dynamics, while retaining a high seating position and increased ground clearance of an SUV. But while the X6's sleeker shape certainly makes it more alluring than its more upright counterpart, it also makes it less practical, with reduced rear headroom and cargo space in comparison.
The BMW X6 performs better than most SUVs, staying surprisingly composed around demanding corners and over steep, rocky terrain.
Entry-level models are powered by a 3.0-liter turbocharged inline-6, good for 300 horsepower and 300 pound-feet of torque. Choices include the rear-wheel-drive BMW X6 sDrive35i, and the all-wheel-drive BMW X6 xDrive 35i.
A 4.4-liter twin-turbocharged V8 powers the BMW X6 xDrive50i, with a hearty 445 hp and 480 lb.-ft. of torque. All variants get an 8-speed automatic transmission with paddle shifters.
The new BMW X6 M takes things to whole new level. While standard versions of the X6 can't handle the track like a true sports coupe, the X6 M is not only up to the task, it's faster than many smaller, lighter performance cars. With a specially tuned version of BMW's 4.4-liter twin-scroll, twin-turbo V8, the X6 M cranks out 567 hp and 553 lb.-ft. of torque. This permits the X6 M to bolt from 0-60 mph in just 4.0 seconds. A new 8-speed automatic transmission with paddle shifters is standard. All X6 M vehicles use BMW's xDrive all-wheel-drive system.
Perhaps more impressive than the speed and power of the BMW X6 M is the engineering wizardry that keeps this nearly 5,200-pound vehicle centered, stable and highly tossable in the most extreme conditions. A bevvy of mechanical and electronic components work together to make the X6 M feel surprisingly nimble and responsive on the racetrack, including a sport-tuned suspension and chassis, a sophisticated all-wheel-drive logic system and an optimized stability control system. Exhaust and cooling systems have also been upgraded and modified from the base X6.
Inside, the 2015 BMW X6 gets vast improvements in interior design and materials over the previous versions, as well as new standard features. Among them: a digital instrument cluster display, Bluetooth audio streaming and an automatic tailgate. Rear seats get increased headroom and two more inches of rear legroom, making the second-generation, 2015 X6 a more realistic choice for carrying backseat passengers.
A new suite of optional safety features make their way to the 2015 BMW X6, including lane departure warning and a pedestrian and collision warning system; the Active Driving Assistant uses active cruise control and a front camera to automatically start and stop the car in slow-moving stop-and-go traffic. BMW's Night Vision can detect people and animals on dark roads and display their outlines on the center display screen.
Thanks to improved efficiency and aerodynamics, the 2015 BMW X6 achieves better fuel economy over the outgoing model. The rear-wheel-drive X6 sDrive35i achieve 19/23 mpg City Highway, while the all-wheel-drive X6 xDrive35i is rated at 18/27 mpg City/Highway, up from 17/24 previously. V8-powered X6 xDrive50i models achieve 15/22 mpg City/Highway, up from 14/21. Fuel economy for the 2015 X6 M are 14/19 mpg, an improvement from the previous generation's rating of 13/17.
BMW X6 models are at their best when loaded up with pricey options such as the Dynamic Handling Package, which uses torque vectoring control to automatically vary the power sent to each wheel for maximum stability and traction. Optional air suspension, the adaptive M Sport suspension and active steering noticeably improve performance and handling, but add thousands to the sticker price.
Until now, competitors to the BMW X6 were virtually nonexistent, but other manufacturers have begun to try their hands at this segment, including Land Rover with its new Range Rover Sport and Mercedes-Benz with its all-new MLC-Class.