2015 BMW i8 Driving Impressions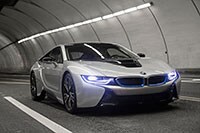 Don't confuse the i8 with one of BMW's M performance car. While it's plenty fast, BMW stresses the i8 isn't for the track, but for a wide range of driving conditions from the daily commute to twisting backroads. Different drive modes produce three very distinct driving characteristics: Eco Pro maximizes efficiency and energy recovery; Comfort mode automatically transitions between electric and gasoline motors, depending on the driving situation; Sport mode is for maximum power and performance, with an electric e-Boost function, more athletic steering and quicker shifts.
In electric driving mode, the i8 uses only the front-mounted electric motor, with the two-speed transmission in low gear. All-electric range is estimated at a maximum of 22 miles, at speeds of up to 75 mph. Though, as with all electrified cars, range can vary greatly depending on driving style, and using the air conditioning will also kill the battery faster. We got 9.2 miles of electric range with the A/C set at 73 degrees and the fan on the lowest setting, and perhaps a lead foot.
When more power is needed, the driver can also override electric mode by pressing harder on the accelerator until it kicks down, which will bring in the gas engine to help. Though we could feel the transition during kickdown, it wasn't in any way disruptive or uncomfortable.
In any mode, acceleration off the line is swift and seamless. Comfort mode is the default on startup, and we found the transitions between gas and electric unobtrusive. Steering is somewhat light in Comfort, which is unusual for contemporary sports cars, which often seem to favor a heavier feel. Though it was fine for driving around town and maneuvering through tight spots, like the grocery store parking lot, where we got more than a few envious looks.
Clicking over to Sport mode on the shift lever tightens up steering and will provide maximum power with the gas engine running continuously, plus help from the electric motor/generator which provides instant torque to compensate for any turbo lag. Despite the i8's potential for efficiency, this mode is by far the most fun, and we'd just prefer to leave it in Sport all day.
According to BMW, the i8 can accelerate from 0-60 mph in just 4.2 seconds, which is just one-tenth of a second shy of BMW's estimated 0-60 mph time for the newest M3 and M4 sports cars. Though there are much faster cars out there for the price, we found the i8's silky powerband will make you feel like you're flying in no time.
Brakes are designed to recover as much energy as possible, depending on driving mode and speed. Around town, the brakes do feel a tad grabby, as is characteristic of all hybrid cars, but it's not particularly bothersome. With moderate to hard braking, we found the system a little more invasive, but learned to smooth out the ride by modulating our pedal style. To maximize safety and performance, energy recovery functions are disabled at speeds over 90 mph so the brakes don't overheat.
Though it's technically a body-on-frame design (like trucks and old-school SUVs), there's no disconnected feeling on the road. On the contrary, the i8's stiff carbon fiber frame, low center of gravity and 50/50 weight distribution give it amazing road manners. The i8 hugs every curve with a firm, planted feel. And although the narrow tires are designed for efficiency and wrapped around giant 20-inch wheels, we found plenty of grip and very little noise. BMW's so-called Intelligent all-wheel-drive system continuously adjusts the torque ratio between the front and rear wheels for maximum traction, whether around a tight corner or driving in the rain.
If we had a complaint, it would be the large blind spot created by the wide A-pillar, which partially blocked our view when looking through the corners on winding roads. The sharply sloping roofline also makes for somewhat limited visibility in the rear corners, though visibility is fine out the front and back windows.
Perhaps one of the most seductive characteristics of the BMW i8 is its deliciously throaty exhaust note, especially in Sport mode. Engineers carefully designed the i8's sound using recordings from the actual gasoline engine, and amplified it through the cabin to make the driver feel like the hero (or heroine) in an action movie.