2015 Cadillac ATS Walk Around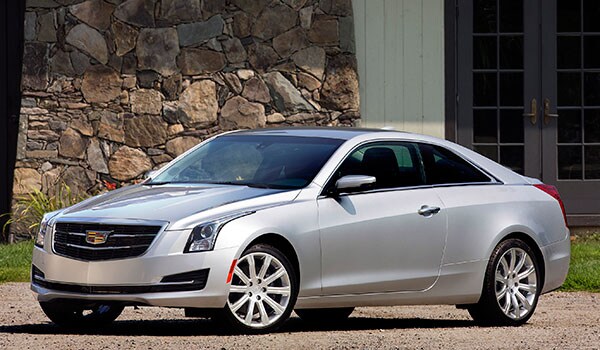 Exterior styling on the ATS is bold and distinctive, continuing Cadillac's Art and Science design language that's been in use for more than a decade. Like other Cadillac models, the ATS makes a unique statement in a sea of sameness, but may prove a tough sell for European-luxury car enthusiasts who prefer sultry swoops to Caddy's sharp geometric shapes.
New for 2015 is a redesigned front grille, with a multi-dimensional pattern that's a modern take on Cadillac's signature egg carton grille. It's beset with two strong horizontal chrome lines and Cadillac's new crest, a more modern design that ditches the longstanding laurel wreath in favor of a lower and wider landscape shape, with a straight-edged top line and a distinct angular lower line.
Headlamps use Cadillac's signature vertical shape, with long, tapering tails that stretch up alongside the hood line. Vertical foglamps underneath accentuate the upright look of the front fascia. The front end is not only aesthetic, but functional: Inside the front grille are shutters that automatically close at certain highway speeds, which reduce aerodynamic drag and help fuel economy. Coupes get HID headlights and LED foglights all models, except for the standard base trims.
From the side, the ATS sedan appears squared-off, but not as wedge-y as the CTS. A rising character line along the bottom is evident, but not overdone. The roofline slopes gently past the C-pillar, and isn't as steeply raked as some sporty compact cars, presumably for the sake of rear passenger headroom. Chrome accents on window surrounds and door handles convey a look that's more luxurious over sporty. In addition, the Brembo performance brakes that come on some ATS models use a special Ferritic Nitro-Carburizing (FNC) coating, which helps to prevent corrosion and keeps them looking shiny.
ATS coupes are wider and sleeker than the sedans, with wider fenders and elongated lines. When the light hits it just right, one can see a definite wedge shape formed by the rising character line that stretches from just behind the front wheel arch, through the door handle and into the tail lamp.
In back, the rear bumper echoes the front with its sharp center crease. Tail lights and long and narrow. Sedans have a thin horizontal LED brake doubles as a rear spoiler. On coupes, the decklid spoiler is instead created from sheet metal, and the brake light is inlaid below. On both sedans and coupes, dual chrome exhaust pipes sit below the rear bumper.
Interior
Fit and finish inside the Cadillac ATS is comparable with Audi A4 and BMW 3 Series, though, as with the exterior design, the sharp creases and bold angles are unlike anything you'd find on a German car. Upper trim levels of the ATS use CUE, Cadillac's touchscreen interface. An acronym for Cadillac User Experience, the large screen uses proximity sensors, haptic feedback and voice recognition to control phone, audio and navigation functions. Unlike many luxury vehicles with proprietary interfaces (like the BMW iDrive and Mercedes Benz's COMAND system), there is no central control knob on the center console and all functions are performed either through voice or via the touchscreen.
Updates to CUE include a new text-to-voice feature that will read SMS messages from users' smartphones, and 4G LTE connectivity (branded as OnStar, which also encompasses GM's telematics service) that allows driver and passengers use the ATS Coupe as a WiFi hotspot for up to seven devices. CUE's home menu is configurable so you can access your favorite functions easily. It also uses proximity sensing, which saves extra steps and keeps your attention better focused on the road. When driving, CUE will display full-screen maps or audio information, but when your hand is nearby, it automatically brings up menu options related to the current function on the screen.
Although CUE has been improved during its lifespan to be faster and more user-friendly, we still have mixed feelings about the electronic interface. The volume, for example, must be adjusted by dragging one's finger across a horizontal bar, which requires exact manual dexterity, not easy in a moving car. Most of Cue's audio functions are better left controlled at the steering wheel. One of the touches we've always liked is the safe feature, which allows drivers to store valuables behind the movable touchscreen, which can be accessed by setting an electronic code.
Front seats are comfortable, and offer a range of adjustability from petite to tall. Because it's a smaller, sporty car, bolsters hug driver and front passenger tighter than in other Cadillac models, which is a good thing when navigating winding roads. On cars equipped with the optional Driver Awareness Package, the driver's seat will vibrate when the lane departure warning or forward collision alert is activated. If a vibrating seat isn't your style, you can change the warning to an audible tone. As for us, we think the vibrators should have a manual on/off switch and be repurposed as seat massagers.
Coupes equipped with front performance seats offer power-adjustable bolsters on the driver side. However, we found the bolsters didn't adjust narrowly enough to hug smaller or thinner individuals.
The ATS features extra touches like handcrafted cut-and-sewn leather upholstery on upper trim levels. Cadillac designers like to point out that all the materials in the ATS are genuine. If it looks like aluminum, it is. If it looks like carbon fiber, it is.
In back, rear legroom is on the tight side at 33.5 inches but is comparable for a car of this class. The sedan offers about the same as the Mercedes-Benz C-Class, but about an inch and a half less than the Audi A4 and BMW 3-Series sedan. It's a similar story with rear headroom; the ATS sedan is comparable to the Mercedes, but falls about an inch short when compared to the Audi and BMW. This is especially curious considering the overall length of the ATS is two inches longer than the C-Class, and practically three inches longer than the A4.
Compared with the sedan, coupes have one inch less headroom in front, and nearly two inches less in rear. Rear legroom measure the same as the sedan, but the two-door configuration makes the rear much trickier to access.
Trunk space in the ATS measures 10.2 cubic feet in sedans and 10.4 cubic feet in coupes, which falls short of competitors like the Audi A4 and Mercedes C250, which both have a total volume of 12.4 cubic feet, and the BMW 328i, which offers a roomy 13 cubic feet.