2015 Chevrolet Colorado Introduction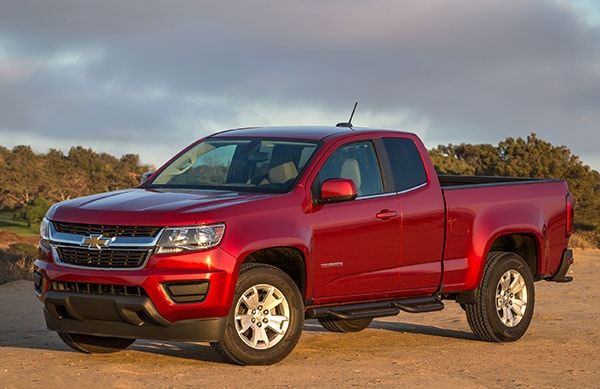 Chevrolet Colorado is a mid-sized pickup for people who do occasional hauling, tow light trailers, or need four-wheel drive to reach their favorite sporting site.
Narrower and lower than a full-size pickup but not necessarily shorter, Colorado offers two cabs: An Extended Cab with rear doors that open opposite the front and a Crew Cab with four conventional doors. Extended Cabs have two compact, forward-facing rear seats good for kids or child seats, while Crew Cabs use a three-person bench with head and legroom approximating the space of a full-size pickup with an extended cab.
All Chevrolet Colorado pickups have roomy bucket seats in front.
Load capacity ranges from 1,400 to 1,600 pounds, more than some full-size pickups. Maximum towing capacity is 7,000 pounds. As with all pickups you can't carry and tow maximum weights simultaneously.
Useful Silverado bits that trickled down to the midsize Colorado include bed lights and cargo control systems, corner bumper step and rail grab handle, and a locking tailgate with backup camera. The primary compromise in pickup utility comes from wheel arches too close to put a 4×8 sheet flat on the bed floor; they'll need to be carried above the wheels with some 2×6 or 2×8 cross planks. Tailgate opening width is about 55 inches so your quad or watercraft may fit.
The base model Chevrolet Colorado is powered by a four-cylinder engine, with manual transmission, rear-wheel drive, no back seats, vinyl upholstery and flooring, and few options. This is best for the most budget-conscious or as a blank canvas for a custom truck. Features and options progress upward through Colorado WT and Colorado LT to the Colorado Z71 top trim. A fully loaded 2015 Chevrolet Colorado will hover around $40,000.
A rearview camera is standard and you can get forward collision and lane departure warning systems, but at least for now you cannot get those warning systems on the Z71 with our favorite suspension setup. OnStar is available on most 2015 Chevrolet Colorado models and now offers 4G LTE communications and serves as a Wi-Fi hotspot. Data pricing varies on use and whether you are an OnStar subscriber. The pilot/machine interface is easy to use and includes Bluetooth streaming, text alerts, internet radio and so on.
Engines include a 200-hp four-cylinder and a 305-hp V6, almost all with a 6-speed automatic transmission. Both perform well. The four-cylinder tows up to 3500 pounds. Given the choice, we'd recommend the four-cylinder if you're using your Colorado as a second car, V6 if you plan on towing or four-wheeling. EPA ratings are better than those of the similar-size Nissan Frontier and Toyota Tacoma, but they're also just one or two miles per gallon better than those of a full-size Silverado V6 or Ram HFE and lag behind ratings for a Ram 1500 diesel.
Colorado's twin brother GMC Canyon has a much different appearance, slightly different trip computer/data screen operation and different packaging. It may appear to cost more but do the math: Canyon comes standard with alloy wheels, has a higher shipping charge and includes basic maintenance for a couple of years. If you want a more premium vehicle, go for the GMC, if you want more value, go for the Chevy.
Your debate between a Chevrolet Colorado Extended Cab with 2+2 seats or a Chevrolet Silverado regular cab with three seats, or Colorado Crew Cab V6 versus Silverado Double Cab V6, will come down to which gets top priority: cost and the features you want, styling or garage width consumed because loads, fuel economy and maneuverability are typically within 10 percent of each other.