2015 Chevrolet Impala Introduction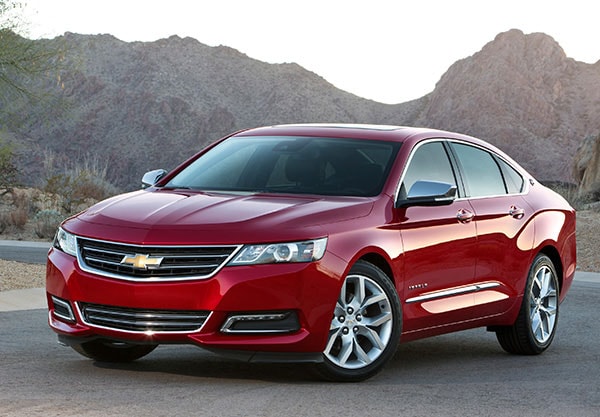 The Chevrolet Impala is a full-size sedan in the same class as the Toyota Avalon, Ford Taurus, and Hyundai Azera. Redesigned and enlarged for 2014, Impala has attractive styling and a roomy, high-quality interior with thoughtful touches. Underway, it's quiet and efficient, responsive and enjoyable to drive.
Impala is front-wheel drive and shares its platform with the Buick LaCrosse and Buick Regal, Cadillac XTS and Chevrolet Malibu.
Because it was redesigned for 2014, there are few changes for 2015. The biggest news is the addition of OnStar with 4G LTE on all 2015 Impala models. The 4G LTE system provides a mobile Wi-Fi hotspot inside the car for drivers and passengers to stay connected; it's on whenever the car is on. 2015 Impalas equipped with the 2.5-liter four-cylinder engine come with a stop/start feature that shuts the engine off whenever the car is stopped to save gas, then restarts it the moment the driver lifts off the brake and steps on the accelerator. The 2015 Impala will be available with a new bi-fuel version of the 3.6-liter V6 that can operate on gasoline or super-clean-running compressed natural gas.
The 2015 Chevrolet Impala offers a choice of three engines. The 2.5-liter Ecotec inline-4 makes 196 horsepower and 145 pound-feet of torque and gets an EPA-estimated 22/31 mpg City/Highway. Most powerful is the 3.6-liter V6 with direct injection rated at 305 horsepower and 264 pound-feet of torque and 19/29 mpg. All Impala models use GM's 6-speed Hydra-matic transmission.
The new bi-fuel version of the 3.6-liter V6 produces 260 horsepower and 247 pound-feet of torque on gas or 230 horsepower and 281 pound-feet running on CNG. The bi-fuel V6 will be available later in the 2015 model year, and EPA fuel economy estimates had not been released when this was published. (Last year's 2.4-liter inline-4 with GM's eAssist mild-hybrid system has been discontinued.)
While the stop-start system has added 1 mpg to the 2015 2.5-liter's EPA City estimate, it's a far cry from the 25/35 mpg rating in last year's 2.4-liter with eAssist.
Good aerodynamics help the 2015 Impala with fuel economy, in part aided by wind blockers positioned in front of the tires, which look like mud flaps put on the wrong way. Four-cylinder models get an active aero-shutter grille and underbody aero panels to make the Impala even more slippery. Efficiency is aided by electric power steering that draws energy only when the steering wheel is turned.
A quiet ride is one of the Impala's strong suits. Acoustic glass in the front side windows, extra foam in the body, and additional sound deadening material in the floor pan and trunk help to keep occupants feeling like they're in their own little bubble.
Four-wheel disc brakes with ABS and brake assist come standard on all models, and rotors have a special coating that resists rust, which not only keeps them shiny, but also reduces shudder under braking and, according to Chevrolet, doubles the life expectancy of the rotors to 80,000 miles.
Several electronic safety systems are optional on mid-range Impala LT models and standard on Impala LTZ trims, including forward collision alert, lane departure warning, side blind zone alert, rear cross traffic alert and rear park assist. Top-of-the-line Impala LTZ trims with the V6 engine can also be equipped with full-range adaptive cruise control with collision mitigation braking and brake pre-fill. With this technology, the Impala will automatically keep a safe distance from the car in front while cruising, and will slow down or even stop itself if a collision is imminent.