2015 Chevrolet Silverado HD Driving Impressions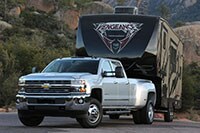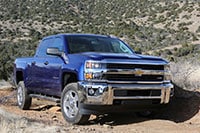 The Vortec 6.0-liter V8 gasoline engine is now rated 360 horsepower and 380 lb-ft of torque for all pickup applications, on Regular-grade unleaded. Although torque peaks at 4200 rpm, you needn't rev it up to get most of the power, but towing heavy loads or hauling weight up hill it will downshift frequently as needed. Tow/Haul mode is designed for total loads about 75 percent of gross combined and above (say any trailer more than 8000 pounds behind the gas engine) and works very well.
Last year's 4.10:1 axle ratio $100 option is now standard and the only one you can get with the 6-liter. Apparently our assertion that it gave better performance and a higher tow limit with negligible impact on fuel economy was correct, or the majority ordered it.
The 6-liter V8 can be ordered as a compressed natural gas unit. The conversion is made at a GM outfitter and is warranteed, but power rating drops to 301 hp and 333 lb-ft. If you work only in certain regions and don't tow big loads, and CNG is available locally (where it likely costs much less than gasoline), it may be the way to go.
All of the big tow ratings come with the diesel engine: On some configurations it is rated for almost 10,000 pounds more than the gas engine. The diesel is $7195 and requires the $1200 Allison automatic transmission upgrade, but it provides double the torque of the 6-liter at much lower rpm, better fuel economy (by about 35 percent, according to trip computers) and better engine braking through an exhaust brake that even works in cruise control. The diesel's DEF tank is designed for refills around oil change intervals (5000-7000 miles) and as it runs low, if you ignore the dash display to refill, the truck runs slower and slower. It will never prohibit an engine start. The Duramax is approved for B20 fuel, but be sure to consult the manual and ensure the fuel is to ASTM standards.
A Silverado HD drives heavy, as in a solid feel and deliberate control inputs. It is confident empty or with a load on board. We drove a Regular Cab empty over some marginal roads and the ride wasn't punishing at all. On longer cabs a special body mount is used at the back for even better ride quality, but as is always the case the wrong wheelbase on the wrong set of expansion joints can still result in some bobbing; this situation is not unique to GM pickups.
Although the steering wheels are shared with light duty trucks the HD feels different. They have more weight on the wheels and use hydraulic assist rather than the electric-assist of the 1500s. Tires on the 3500 duallys were all 17-inch Michelins, but 2500-series trucks offer a choice of 17, 18 and 20-inch tires of various brands. Our choice for ride quality, quiet, work, and replacement costs are the 17- or 18-inch wheels and tires.
As the only heavy-duty pickups with independent front suspension on 4WD models, the 4WD Silverado HD and GMC Sierra HD steer with more precision and absorb front-end road impacts better than do the Ram and Super Duty. Like most torsion-bar sprung vehicles the GM's trim ride height can (and should) be adjusted for added weight such as a snow plow or big camper.
Almost every Silverado HD may be equipped with a snow-plow package and many plowers opt for the gas engine citing easier very-cold weather operation, quicker throttle response and more payload for spreaders. Diesel models have a claimed wait-to-start of 3 seconds at -20°F, available high-idle for faster warmup and a PTO on the transmission.
Brakes are class typical: big vented discs all around. Although a fully optioned Crew dually weighs about four tons, empty HD pickups (with relatively little weight over the rear tires) don't generally stop any better, often worse, than those carrying some load on the rear wheels. We didn't get a chance to sample the antilock function in the rain, but it worked respectably on a gravel road.
All 2015 Silverado HD pickups have electronic stability control with trailer sway control. The system includes hill-start assist, which means the truck won't roll backward on an incline if you take your foot off the brake to put it on the gas; generations of automatic-owners who left-foot brake may never notice the feature.
Newly available on top trims are forward collision alert (FCA) and lane departure warning (LDW) systems. We had both on and never had an LDW false alarm, no small feat in a 21.6-foot long truck, and just one with the FCA, which interpreted a dump-truck in the opposing lane (not over any centerline) as a potential collision.
An integrated trailer brake controller is available to slow your trailer much more comfortably and more controlled and more precisely than most aftermarket controllers can. We recommend getting it, if just for resale value. Likewise, we can't see much point in a dually pickup without towing mirrors.
A 2.5-inch receiver hitch allows conventional trailer ratings to 19,600 pounds, eclipsing any competitive pickups at post time; the maximum for fifth-wheel trailers on properly equipped Silverado HD models is now 23,200 pounds. The strongest Silverado HD will haul 30,000 pounds of truck, cargo, people and trailer. As with virtually all full-size pickup ratings, the HD with the highest payload will not pull the heaviest trailer, and no pickup will do max load and trailer at the same time.