2015 Chevrolet Silverado HD Walk Around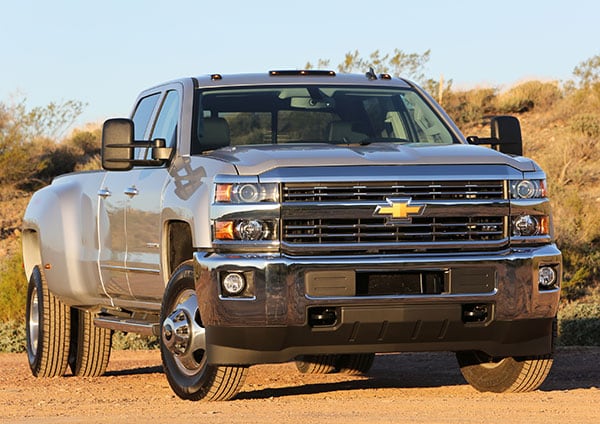 The 2015 Silverado HD looks much like the 2014 Silverado 1500. The cabs are the same, and while the other parts are unique because of HD dimensions, cooling requirements or dual-rear wheels, the styling is very similar to the light-duty version.
It's a square, imposing truck. As pickups approach medium-duty trucks for work capacity they require more robust cooling packages, so the HD has a larger grille and bumper openings than the Silverado 1500. You can tell the powertrain by hood badges and exhaust outlets, and trim by the amount of bling. Although it looks quite geometric, air flows over the 2015 Silverado HD with less resistance than with the previous version.
A big chrome crossbar and bow-tie logo are Chevy family, and the projector headlight arrangement echoes the 1500. Fog lights (if equipped) are spread well apart and the shark-fin antenna should clear most cab-over campers (though the signal may be affected). The front air dam fitted for fuel economy is low by 4WD standards and will scuff on steep driveways before some cars or vans.
Big square wheel openings, especially on duallys, leave lots of room in the fenders. The dominant design theme is horizontal, broken only by lights and a kink in crew cab rear window line. Side steps are offered in various sizes and finishes, including a small drop-down step ahead of the rear wheels. The cab-to-bed gap gets smaller with every generation. The trailer plugs are adjacent the license plate.
Dual-rear-wheel pickups use a sheetmetal pickup box with integrated fenders for the double rear wheels, resulting in a smoother look and finish (though potentially higher repair bills if you ding one). The substantial reinforcement panels in the dually wheelwells are likely to cause some noise on gravel roads but not collect snow or mud like the old ones.
Where not standard (required by weights and widths) the roof marker lamps, one each side and three in a pod in the center, are optional. The tailgate lifts and lowers easily and one engineer who has removed one solo estimated its weight at 45 pounds. Spray-in bedliners, under-rail bed lights, a variety of lashing points and cargo covers are available. The frame is ready for fifth-wheel installation and the receiver hitch is rated up to 19,600 pounds. Chevy does not require weight-distribution but we'd recommend it with that heavy tongue weight.
The Silverado HD matches up against other heavy-duty pickups in most dimensions as they all carry the proverbial 4×8 sheet of plywood flat in long-box models. However, the Silverado tends to have a slightly lower roofline, and the 4WD is no taller, so they may fit better in your parking garage.
Interior
Except for minor details, the cab from the light-duty has been dropped wholesale on the HD. You will recognize it as a GM product but some buttons, switches or logos are the only bits that aren't new. The 2015 Silverado HD cab is roomier, quieter, more comfortable and offers more advanced infotainment than before.
The biggest news for 2015 is the mid-size Double cab that replaces the Extended cab. Double cab uses a center pillar and forward-hinged rear doors to access a slightly roomier back seat. Yes, you give up some access ease of the old clamshell doors but don't need lots of space adjacent to get in and out, don't bother the front occupants and it results in a much more rigid, quieter cab. Extended cabs were most likely to squeak and groan, but with the smallest openings and six pillars the Double Cab is the strongest version.
All Silverado HD use what amounts to a four-segment dashboard. Far left are lighting, 4WD for all but WT, and trailer brake control, very convenient for adjusting the gain while watching the mirror for trailer lockup. Ahead of the wheel are complete and responsive gauges (diesels get different tachometer and oil pressure scales) with a center screen run through steering wheel controls. In the center are the touchscreen, audio/infotainment controls, climate controls and accessory switches. On the right, upper and lower gloveboxes.
Front seats proved supportive, be they manual or power adjusted. The center of the bench option is adequate for moderate journeys and best for those of shorter stature given less legroom on the flat floor hump. Some trucks have locking storage under that seat, and the backrest folds to an armrest as comfortable as those on the bucket seat/console trucks.
Rear seats are also quite comfortable, your 6-foot correspondent surviving 45 minutes in a Double Cab with no aches and pains. The seat cushion lifts easily for inside cargo area. The Crew cab has plenty of room, bigger doors make it easier to get in and despite the seat feeling closer to the floor than competitors doesn't feel lacking leg room unless compared to a Tundra CrewMax or Ram MegaCab. On the other hand, minimal rear-seat headrests with little lift on the Silverado are far inferior to those found on Ford and Ram heavy-duty pickups.
Outward visibility is good because you're nearly six feet off the ground and the pillars aren't too thick. The hood sculpting gives only clues where the front corners are for close-quarter maneuvering or tight trails, but the snout isn't as long as you think. The telescoping dual-element towing mirrors and the available rearview camera, which we recommend getting, make up for much of what you can't see out the back window.
Basic controls are all easy to find and operate. The shifter has Tow/Haul on the end and an up/down shift button active once you move the lever from D to M. Your dog may move your memory seat or engage a child-lock (one driver did it to us, he swore by accident) and the ergonomics don't suit your correspondent, but complaints are few.
The MyLink infotainment system works well, pairing phones and iPods quickly, and can scroll up to 30 tabs which can be used as radio station presets, navigation locations or phone numbers: Speed-dial for all of it, if you will. Upper-level trucks have plenty of ports in the console, and a Crew equipped with the rear entertainment system will have six USB ports, two SD card slots, AC and DC power points, and video inputs.
OnStar turn-by-turn navigation (Directions & Connections) is included, though there is a monthly service charge after an initial trial. We've had good experiences with the OnStar operators and recommend it. If you get in a wreck that sets the airbag off, the OnStar operator will come on over the speaker system and ask you whether you're okay. If you don't respond, the operator will direct emergency responders to your exact location, handy when no one notices you just plummeted down a ravine. OnStar can direct police to your car if it's stolen, unlock the doors if you lock yourself out. OnStar Hands-Free Calling is available, along with traffic reports, weather updates, stock updates.