2015 Chevrolet Silverado HD Introduction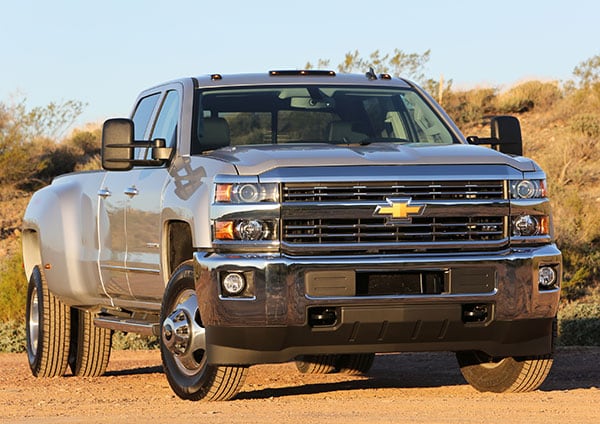 The Chevrolet Silverado HD (and GMC Sierra HD) is the least truck-like of the heavy-duty pickups. Apples to apples Silverado HD usually has a better ride, more precise steering and quieter interior, yet it can still do the work you expect of an HD pickup. For 2015, Silverado HD's cab and interior match the changes made to the light-duty Silverado for 2014, as do safety features such as forward collision alert and lane departure warning.
Chevrolet Silverado HD, Ford Super Duty and Ram HD compete constantly for weight rating superiority and bragging rights. At introduction, the 2015 Chevrolet Silverado HD fares well with the top payload rating (by less than 75 pounds) and top conventional trailer tow rating (by 1100), but the Ram bests Ford and GM by more than three tons on max fifth-wheel or gooseneck ratings. It's important to note that while there is an SAE standard for trailering ratings, none of the manufacturers quote figures according to it.
A base 2015 Silverado HD 3500 regular cab 2WD dual-rear wheel can carry 7,343 pounds of payload; it can tow 14,200 pounds. Top fifth-wheel rating is 23,200 pounds on a dually regular cab diesel 4WD (payload 5817). Top conventional towing is 19,600 pounds on a long-bed Crew Cab dually 4WD diesel (payload 5205). Like all big pickups, no one version maxes all the numbers, and these values are for low-option, empty trucks and will only go down with people, options and any cargo on board.
Chevrolet Silverado HD was completely re-engineered for 2011 so the majority of changes to the 2015 Silverado HD are above the frame. Most of the mechanicals got minor tuning and software updates for various control systems, but the basics will look familiar. The cab, interior, sheetmetal and many features are new for 2015.
The 6.0-liter V8 gas engine is rated 360 horsepower and 380 pound-feet of torque for all Silverado HD pickups. Paired with the 6-speed automatic it is a proven, inexpensive combo. For the big towing numbers you need the 6.6-liter Duramax diesel (B20 approved) with 397 hp and twice the torque of the gas V8. Everything in the suspension, steering, brakes, frame and ancillary systems is built to complement the diesel power. As a result, anyone with money and a driver's license can buy a leather lined four-door cabin capable of pulling a 10-ton trailer (which requires a commercial drivers license in many states).
Vinyl seats and rubber floors remain available. At the other extreme are heated and cooled leather seats with memory and more inputs and ports than some computers (at this time the High Country trim from Silverado 1500 did not make the jump to HD). The dash and materials have been upgraded, Chevy's very good MyLink infotainment is available, and the breadth of equipment expanded. Forward-hinged doors on the Double Cab that replaces the Extended Cab make it squeak and rattle-free, while both four-doors have more room in back.
The 2015 Silverado HD offers five wheelbases in 2500 (3/4-ton) trim. It comes as a Regular Cab long bed (8 feet), a Double Cab with standard bed (6-foot, 6-inch) or long bed, or Crew Cab with standard bed or long bed. The 3500-series (1-ton) is all long-bed except for a 3500 Crew Cab standard bed with single rear wheels. All dual rear wheel models have the long bed. Some models are available with a pickup box-delete for mounting an aftermarket setup or your own. Pickup fuel capacity is 36 gallons.
Three trim levels are available, WT, LT and LTZ, though not on every configuration. LTZ is limited to Double and Crew Cab models. Expect to add $1,500-$3,000 to move from regular cab to Double or Double to Crew Cab, about $200 from standard bed to long bed, $3,000 for 4WD, and roughly $4000 to upgrade from WT to LT and $5000 from LT to LTZ.