2015 Chevrolet Suburban Introduction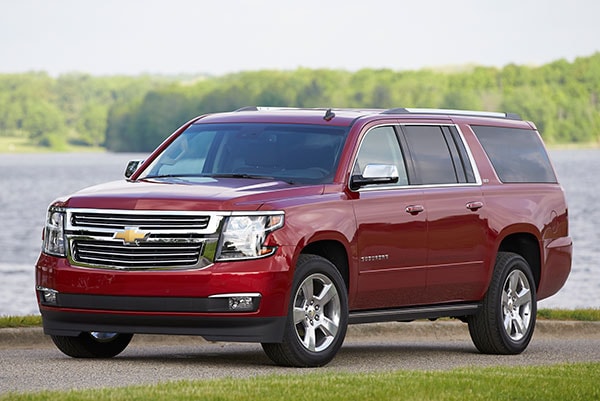 The Chevrolet Suburban holds title as America's oldest continuously sustained nameplate, a legacy that dates to 1935, suggesting that the basic idea, a big family hauler capable of seating eight or nine passengers, hauling lots of cargo, towing substantial loads, or combinations of all three, has made sense to a lot of buyers for a long time.
This is the 12th chapter in the ongoing story, a makeover that Chevrolet characterizes as all-new. However, just new seems a little more accurate. The foundation, an updated version of the rugged GM 900 truck frame (the Suburban has always been a body-on-frame design), is basically the same one that supported the 11th generation, and chassis and body dimensions are essentially the same.
On the other hand, the sheetmetal, with a distinctive character line running the length of the body just below the greenhouse, is all new. So is the interior. So is the 5.3-liter V8 EcoTec3 engine, although the specs may not reflect this at a glance. Same bore, same stroke, same displacement, and those bore centers date all the way back to the small-block Chevy V8 of 1955. They seem to have become as inviolable as holy scripture at General Motors powertrain engineering.
But this is a much different 5.3-liter V8, with a new aluminum block, new aluminum cylinder heads, new crankshaft, new pistons, higher compression ratio, direct fuel injection. More power: 355 horsepower (380 hp on E85 fuel) versus 320 in the previous version, 383 pound-feet of torque (416 lb.-ft. on E85), enough grunt for a towing capacity of 8000 pounds with four-wheel drive, 8300 pounds with 2WD.
More impressive, there's improved fuel efficiency to go with the increased thrust: 15/22 mpg City/Highway with 4WD, according to the EPA, 16/23 mpg for rear-wheel-drive versions. Pretty impressive for an engine configuration, pushrod-activated overhead valves, that pre-dates World War I.
Equally impressive is how well the new Suburban comports itself on the road. We hear the term car-like driveability in connection with a lot of crossover SUVs, but it's a non-sequitur with vehicles in this size class. Still, the Suburban is gratifyingly prompt in its responses, an active safety plus for a vehicle that's likely to be loaded with kids, and it's a smooth operator in terms of ride quality.
The new skin isn't exactly head-turning, it's hard to make a big two-box truck look like anything but a big two-box truck, but there are enough styling tweaks to differentiate it from generation 11, it's unmistakably Chevy, and aerodynamic efficiency has been improved. Aerodynamic efficiency isn't a concept we associate with a vehicle that has the contours and dimensions of a small garden shed, but the improvement contributes to fuel economy as well as reduced interior noise levels. Much reduced.
There are elements that could be even better. For example, though the new 5.3-liter V8 is robust, there's a senior member of the EcoTec3 family, 6.2 liters, substantially more power, but even though it's an option in the Chevy Silverado, it's not offered for the Suburban. If you want 6.2 power, you'll have to visit a GMC store, it's limited to the Yukon and Yukon XL.
The 5.3-liter is the only Suburban engine for 2015, and the 6-speed automatic is the only transmission, although this last, the transmission, is likely to change in the not-too-distant future.
In this area at least, power, Ford's 2015 Expedition EL will have a slight edge on the Suburban when the facelifted Ford begins rolling into dealerships in the second half of 2014. The extended wheelbase Expedition is the Suburban's only real direct rival, and Ford is replacing its rather tepid 5.4-liter V8 with an Ecoboost (read: turbocharged) 3.5-liter V6. That will give the biggest Ford a little more power than the Suburban, 365 hp, 420 lb-ft, a higher max towing capability (9200 lb), and probably a slightly higher EPA fuel economy rating.
However, the Suburban's makeover is otherwise far more extensive, and based on our exposure thus far we think Chevy's hefty family wagon continues to rule this class.