2015 Chevrolet Tahoe Introduction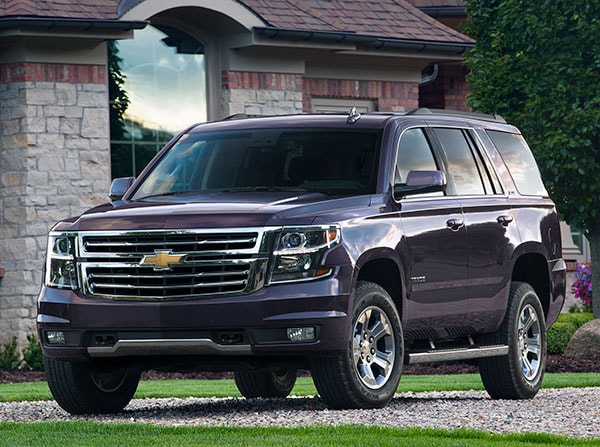 The 2015 Chevrolet Tahoe is new inside and out, with more power, more fuel efficiency and more refinement than before. All told, the 2015 Tahoe's makeover is thoughtfully planned and nicely executed.
While chassis dimensions don't change, there are updates to the foundation. A stronger body structure uses more high-strength steel and the rear track has been expanded slightly, contributing to a smoother ride and quieter cabin.
Third-generation magnetic ride control automatically adjusts shock absorbers to road surfaces and driving demands in milliseconds, affording a blend of comfort and control we find remarkable in a vehicle this size. It's limited to the top of the line LTZ trim level, but trim levels with conventional spring and damping systems have been retuned and deliver better dynamics than the previous generation.
The sheetmetal has been reshaped from stem to stern, and while it takes an experienced eye to distinguish the 2015 Tahoe from the previous generation, the styling is crisp, with sharp angles and a strong character line running from front to rear just below the greenhouse. The front doors are unique to the Tahoe, no more sharing with the Silverado, and the B-pillar has been moved forward, enlarging the rear door opening for easier ingress.
The 2015 Tahoe's interior is all new, with two welcome new options: a power liftgate and power-folding rear seatbacks. For 2015, GM made a substantial investment in noise suppression, with triple seals around the doors, acoustical laminate windows, and lots of sound-insulation throughout. The payoff is a big ute with luxo sedan interior noises levels.
Like the Suburban, the 2015 Tahoe is limited to a single engine, a 5.3-liter V8, paired with a 6-speed automatic transmission. That displacement is familiar, but this is a much different 5.3-liter V8: all aluminum, new block, new cylinder heads, new crankshaft, new pistons, higher compression ratio, direct fuel injection. More power: 355 horsepower versus 320 hp in the previous version, 383 pound-feet of torque. That torque provides the pulling power to achieve a towing capacity of 8400 pounds with four-wheel drive, 8600 pounds with 2WD.
And there's improved fuel efficiency to go with the increased thrust: 16/22 mpg City/Highway with 4WD, 16/23 mpg with rear-wheel drive.
Tahoe shares the Suburban's solid body-on-frame construction, and while it weighs a couple hundred pounds less than the big guy, at 5683 pounds with four-wheel drive it's no wraith. Curb weights on the 2015 models are up by as much as 100 pounds, depending on equipment, and while the Suburban takes up even more room, a vehicle that's 204 inches long and 74.4 inches high still casts a lot of shade in a parking lot.
The Tahoe is 14.4 inches shorter than the Suburban, on a 116-inch wheelbase, versus the Suburban's 130-inch wheelbase (the distance between the front and rear wheels).
We found the 2015 Tahoe behaves very well on the road. Don't expect car-like driveability; it's a non-sequitur with vehicles in this size class. But the responses are prompt, an active safety plus for a vehicle that's likely to be loaded with kids. And it's a smooth operator in terms of ride quality.