2015 Chrysler 200 Driving Impressions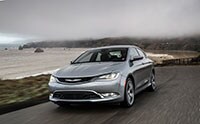 The Chrysler 200 is a great drive. Its steering is firm and accurate, with just the right amount of effort and feedback. The chassis is well controlled, delivering communicative road feel while dampening unruly surfaces. Driven enthusiastically, it has good roll control, remaining pleasingly flat and in command, and all the while, wind and road noise are banished.
Chrysler 200's I4 and V6 engines are what we would call adequate, right in the middle of the pack in many respects. They deliver competitive acceleration. Asked why Chrysler had not followed the current trend towards small-displacement/turbocharged engines, company representatives confided that at the time the new 200 was being designed, these two engines were the only choices available.
The 2.4-liter four-cylinder engine produces 184 horsepower at 6250 rpm and 173 pound-feet of torque at 4600 rpm, according to preliminary figures from Chrysler. The engine uses single overhead cam and redline is at 6500 rpm. The 2.4-liter I4 achieves an EPA rating of 23/36 mpg City/Highway. Unleaded Regular gasoline (87 octane) is recommended.
The 3.6-liter V6 produces 295 horsepower at 6350 rpm and 262 pound-feet of torque at 4250 rpm. Using double overhead cams (four camshafts) the V6 redlines at 6400 rpm. Fuel economy is an EPA estimated 19/32 mpg City/Highway, and Chrysler recommends Unleaded Regular gasoline.
The V6 is offered with an advanced all-wheel drive package. Its rear axle is able to completely disconnect from the drive unit when not needed, reducing parasitic drag and gaining back some fuel economy.
The ambitious 9-speed automatic transmission, standard on all Chrysler 200s, is available with paddle shifters. However, we found the paddle shifter delivered slow response times, and sometimes no response at all, even if your downshift was carefully within the correct speed range of the next gear down. It's a characteristic the driver would adjust to, but it wasn't the best of the paddle-shifter we've driven.
A long list of available electronic driving aids include adaptive cruise control, blind-spot and lane-departure warning, multiple electronic brake assists, park assist and rearview camera
Overall, we found the Chrysler 200 offers a European driving experience. It is more disciplined than the purely Italian model, as well-defined as the determined German model. It's a lively, precise car that engages the driver's attention, and that, in turn, heightens everyone's safety.