2015 Chrysler 200 Introduction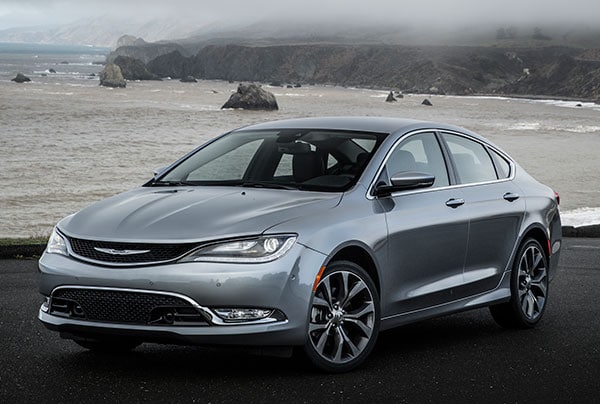 Chrysler 200 is all-new for the 2015 model year. Distantly derived from an excellent Alfa Romeo sedan chassis, this all-new second-generation Chrysler 200 is going toe-to-toe with the best-selling mid-size sedans. Among them: Honda Accord, Toyota Camry, Hyundai Sonata, Kia Optima, Ford Fusion, and Chevrolet Malibu.
It better be pretty good, you say. And at a quick glance, the 2015 Chrysler 200 certainly looks the part. Its styling is crisply contemporary, as charismatic and eye-catching as anything in the category. From its forward-thrusting nose to the sleek faux-coupe roofline and cleanly understated tail, it has a chic world-car presence that will easily earn its place in the front row at valet parking.
The interior, too, is attractively done. Especially in the upper trim levels, the Chrysler 200 has a luxurious look and feel that easily matches its tried-and-true competitors. Available Nappa leather upholstery complements instruments with pleasing refinement, including swank touches such as a Jaguar-like selector knob for engaging the transmission. The seating is excellent, though not overly roomy in back, and road noise is extremely low.
But the key to any car is its road behavior. Here the 2015 Chrysler 200 has real strength. Its well-weighted steering feel and chassis responses are controlled and agile. Not surprisingly, given Chrysler's Fiat ownership, the Chrysler 200 has alert European road feel. Excellent.
Chrysler 200's two engines, the standard 2.4-liter I4 and the optional 3.6-liter V6, provide adequate acceleration and fuel mileage, falling mid-pack in the class. Only one transmission is offered, an ambitious 9-speed automatic.
Chrysler 200 is front-wheel drive. All-wheel drive is available on V6 models.