2015 Chrysler 200 Walk Around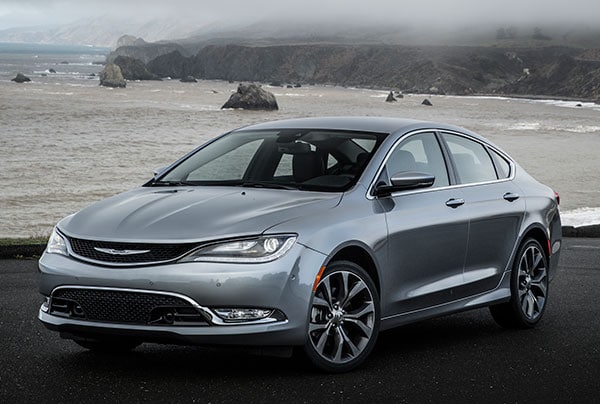 First impressions can go a long way, and especially in pricier trim, there is only one word for this car's look: chic. Imported from Detroit it may be, but we find it hard not to believe these good looks weren't aided by a soft, elegant Italian breeze blowing in from Chrysler's new corporate owner, Fiat.
From its distinctive overall shape right down to its quasi-retro Chrysler wing badge brand identifier, the Chrysler 200 embraces an aggressively modern design language new to Chrysler. Its snarky signature LED daytime running lights and hungry grille present an attention-getting face, while its muscular flanks, sleek coupe profile, and full-sized, integrated rear spoiler fairly shout studio-designed.
The outward-arching rear spoiler lends the car's tail a wide, well-planted presence, implying confident athleticism. And contributing to the clean appearance, the Chrysler 200 features an extremely shallow bumper offset, effectively integrating the bumpers into the overall shape, though at the price, perhaps, of some cosmetic protection in daily driving. A shiny chrome strip surrounds the side windows, accenting the aero shape's rear-swept dynamism, while its steeply raked side mirrors complete the impression of forward thrust.
As all world carmakers begin to eye the giant emerging markets in the Far East, the international design language of the world-car becomes increasingly important to product planning. The 2015 Chrysler 200 is a proudly American car. But this is by no means a traditionally American car but an American-made car with its eye on the world market. Its chassis is closely related to the current Alfa Romeo sedan and the Dodge Dart, but its attractive looks and cutting-edge styling has world-car buyers in its sights. In its styling and presence, it is at least as eye-catching as any of its more entrenched mid-sized competitors. Whether its appearance can make up for its initial lack of market clout remains to be seen, but the designers have done their part.
Interior
Chrysler 200's interior makes a superb first impression in the up-level trim versions. Furnished with Nappa leather seating and a two and half foot-wide real wood applique on the instrument cluster, set off with bronzed chrome trim, this is a thoroughly impressive cabin.
If you wonder how a Chrysler, in the grandiose old sense, could be competing with Kias and Fords and other purportedly lesser devices (isn't that Dodge's job?), you have reason to be confused. Climbing in behind the leather-wrapped wheel of a well-equipped, elegant Chrysler 200C, yet one that is priced in the low 30Ks, will only add to the confusion. Chrysler is offering high value per dollar to attract new buyers, and at the higher end, the 200 delivers a degree of finesse that deserves careful consideration.
The 200's structure has, Chrysler reports, 6-percent greater torsional stiffness than the previous model and uses 60-percent more high-strength steel in the frame. This high-strength steel is of small section sizes, however, avoiding increased weight while still delivering improved strength. In our drives, the structure felt tight and was very quiet, thanks in part to special acoustic sound-deadening carpet. The rear suspension is attached with a special sub-frame, further isolating noise and vibration from the cabin.
Instrumentation was complete and handsome. The tachometer read to 7000 rpm but had no redline; the 2.4-liter I4 engine shifted automatically, however, at a peak of about 6200 rpm, the de facto redline. The information panel delivered all the usual data: trip mileage, fuel mileage, fuel economy, driver assistant (diagramming the road ahead), and vehicle information (coolant and transmission temperature, tire pressures, battery voltage, oil life, oil temperature), digital speedometer setting, gear indicator, compass, messages, and audio indicator. Water temperature and fuel level were indicated by bar graphs.
Keyless push-button start and passive entry are standard. Steering wheel controls accessed the information panel, phone, and voice activation on the left side; on the right side were adaptive cruise control, including three different interval adjustments. A remote trunk release is mounted on the dash. Two seating pre-set adjustments are provided, as well as an electronic parking brake, standard.
Interior space in the front is decent for any but really large drivers. However, with the front seats adjusted for even average drivers, rear-seat legroom is limited. And the sleek faux-coupe roofline has the inevitable penalty of limited rear headroom for tall adults.
The optional perforated and ventilated Nappa leather upholstery was beautiful. The seats were a good fit, with fine lateral support when driving aggressively. In the rear, a center elbow rest folds down and provides two convenient cupholders. However, the rather low rear side windows give backseat passengers a slightly claustrophobic view.
Materials throughout the cabin were of excellent quality. The switchgear had fine tactile sensation, most of it furnished with rubber knobs and surfaces. In the upper trim levels, the 200 is altogether deluxe. Lower trim levels are less so yet certainly respectable. The audio systems and connectivity were of good quality and straightforward, though pressing bar graphs to adjust audio tone is fussy in a moving car.
Cargo space was average, access was narrow by normal standards, and lift-over height was on the high side.