2015 Chrysler 300 Driving Impressions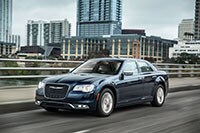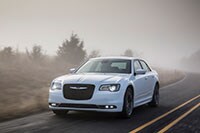 The Chrysler 300 is a large car so it isn't exactly light on its feet. But because of its rear-wheel-drive platform, it's more capable and handles demanding roads better than some of its competitors.
The 3.6-liter V6 is perfectly capable for most driving situations. Acceleration is smooth and linear, and rarely sounds like it's working hard.
The 5.7-liter Hemi V8 is another animal altogether, and while it offers more power and thrust, we could feel the big motor's added weight on winding roads.
The 8-speed automatic transmission is smooth and nearly imperceptible, except when a surge of power is needed for passing at highway speeds or climbing a steep hill. Most of the time, the transmission cruises in a high gear for fuel economy, though you'll get some extra oomph out of sport mode on cars so equipped by downshifting. For those who want to click through the gears, 300S and Platinum trims get steering-wheel-mounted paddle shifters.
The electric power steering feels smooth and comfortable, and appropriate for a car of this size. A new sport mode on Platinum and V8-powered models helps even further with performance and handling. Drivers can choose between normal, comfort and sport settings, which adjusts steering, throttle and shift points. In sport mode, we found the Chrysler 300 felt more agile on tight, twisty turns.
Active safety features on the 2015 Chrysler 300 are competitive with most luxury brands, and include adaptive cruise control, which can bring the car to a full stop, and can even automatically get the car moving again in stop-and-go traffic (provided the car is stopped for less than two seconds at a time). Forward collision warning will fully stop the car at speeds of less than 20 mph, and lane departure warning with lane keep assist will steer the car back into its lane if the driver accidentally veers. Sensitivity for all of these features can be adjusted; they can also be turned off completely.
We took a 2015 Ford Taurus on a competitive drive, and found it lacking in nearly every way compared to the Chrysler 300. In comparison, the steering and handling felt sloppy, and although we had good power from Ford's V6, it felt uninspired. In a subsequent drive in the Chevrolet Impala, which we also like, we found it felt more like a big car, with not quite as much pep off the line as the Chrysler 300's V6.
Fuel economy for the 2015 Chrysler 300 is good for a car of its size. Rear-wheel-drive V6 models achieve an EPA-estimated 19/31 mpg City/Highway, while all-wheel-drive V6 models are rated at 18/27 mpg. Understandably, V8-powered models don't fare nearly as well, with an EPA rating of 16/25 mpg City/Highway.