2015 Chrysler 300 Introduction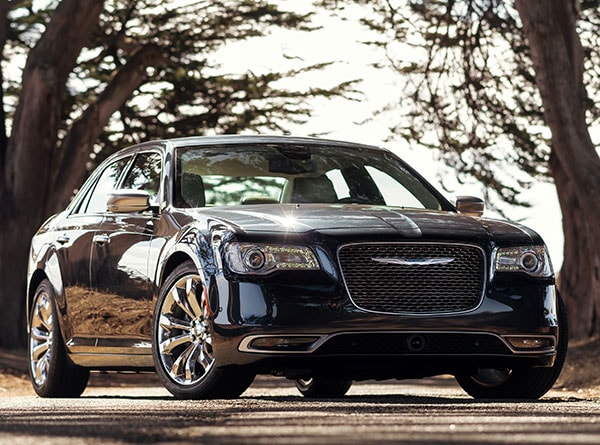 The Chrysler 300 offers the boldest styling in the segment, and for 2015 it gets even bolder. Chrysler's full-size flagship sedan has been redesigned front and rear and features a larger, more imposing front grille, while inside is an improved interior.
The front end of the 2015 Chrysler 300 looks more aggressive but also less gaudy than before, with thinner, more subtle chrome detailing, giving it a more sophisticated, upscale look. A big grille has been a signature design cue since the introduction of the Chrysler 300 in 1955.
Inside, the 2015 Chrysler 300 gets its best interior yet, with a new steering wheel, a new color driver's display, an updated version of Chrysler's Uconnect infotainment system, as well as many attractive interior finishes and materials. We think it's one of the nicest cabins in the class. Designers describe the Chrysler 300 interior as full of contrasts between old-world, handcrafted touches and new, modern cues. Seats are comfortable and roomy, and feel more lounge-like than those in competing vehicles.
Back-seat passengers have plenty of leg- and headroom, on par with the class. Two USB ports in the rear of the center console let rear passengers plug in their phones and other devices. Cargo space for the Chrysler 300 remains at 16.3 cubic feet, less than both the Chevrolet Impala and Ford Taurus.
Engines carry over unchanged from the previous model. The standard engine is a 3.6-liter V6 that makes 292 horsepower and 260 pound-feet of torque, or 292 hp and 264 lb.-ft. in the sportier Chrysler 300S. The standard V6 is perfectly capable, with plenty of power on tap in most driving situations. An optional 5.7-liter V8 Hemi, available on rear-wheel-drive models in nearly every trim puts out 363 horsepower and 394 pound-feet of torque. The V8 is more powerful and better sounding than the V6, and it's especially fun in the 300S model.
Every 2015 Chrysler 300 comes standard with an 8-speed automatic transmission, which is now controlled from the center console by a rotary knob instead of the traditional gear shifter used on the 2014 model. The knob is easy to use and opens up more space in the cabin, creating an airy feeling between driver and passenger. 2015 Chrysler 300S and Platinum models get steering-wheel-mounted paddle shifters.
Fuel economy for the 2015 Chrysler 300 is good for a car of its size. Rear-wheel-drive V6 models achieve an EPA-estimated 19/31 mpg City/Highway, while all-wheel-drive V6 models are rated at 18/27 mpg. V8-powered models don't fare nearly as well, with an EPA rating of 16/25 mpg City/Highway.
The Chrysler 300 is a large car, and as such isn't exactly light on its feet. But because of its rear-wheel-drive platform, it's more capable and handles demanding roads better than some of its competitors. A new sport mode on Platinum and V8-powered models further sharpens performance and handling; drivers choose between normal, comfort, and sport settings, which adjust steering, throttle and shift points. In sport mode, we found the Chrysler 300 felt more agile on tight, twisty roads.
Competitors to the 2015 Chrysler 300 include other full-size sedans including the Buick LaCrosse, Chevrolet Impala, Ford Taurus and Toyota Avalon. Those interested in the top-of-the-line Platinum trim might also consider sportier and similarly priced (yet smaller) Cadillac CTS.