2015 Dodge Challenger Driving Impressions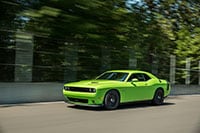 The Dodge Challenger press preview was held in Portland, Oregon, and included a half-day of driving on scenic but busy public roads along the Columbia River (summer tourist season was in full swing), plus some lapping at Portland International Raceway followed by drag racing exercises on the track's long front straight.
We managed to log most of our limited seat time in one of the few Hellcat-propelled Challengers on hand for the public road portion of the program, and emerged with a surprising impression. The power is certainly there, in massive, guttural depth, summoned with very little pressure on the throttle. But for all that, once the driver has learned to suppress the urge to tap the seductive power so readily available, the Hellcat can be a docile everyday ride.
We should add, however, that resisting the Hellcat's massive thrust requires serious discipline. We found the Hellcat makes extraordinarily short work of two-lane passing opportunities, but we waited for the track to open the throttle all the way.
Portland is a flat circuit with some very fast stretches. Indy cars race there, and even with a chicane two-thirds of the way down the front straight the Hellcat builds speed at a heady rate.
The suspension engineers have done a good job here; the hottest of all Challengers corners well, and if the electric power steering could be a little more tactile on center, it's quick, accurate, and nicely weighted as speed builds.
Braking with this package is powerful and fade free, via a set of massive Brembos, but the most impressive element, after the engine of course, is the 8-speed manumatic. In track mode it hammers home shifts in milliseconds, far faster than would be possible to duplicate with the 6-speed manual.
While the Hellcat Challenger handles well enough, far better than its 1970s ancestors, it does share one key trait with the originals: it shows to best advantage at the drag strip. Engage launch control, tramp on the throttle, and the Hellcat is capable of getting through the quarter-mile lights in less than 11 seconds, squashing the driver into the seat bolsters and stretching facial muscles into a big grin. This is serious hustle for a production car. And like its forebear, it's capable of shredding its rear tires in short order.
The Hellcat Challenger is capable of almost 200 mph (199), according to Dodge. Our limited seat time didn't give us an opportunity to verify this claim. But we believe it.
The 2015 Dodge Challenger offers a choice of engines: The 3.6-liter DOHC 24-valve V6 produces 305 horsepower at 6350 rpm and 268 pound-feet of torque at 4000 rpm and is EPA-rated at 19/30 mpg City/Highway, or 23 mpg Combined. The 5.7-liter 16-valve pushrod Hemi V8 is rated at 372 hp at 5200 rpm, 400 lb-ft at 4400 rpm and gets an EPA-rated 16/25/19 mpg City/Highway/Combined with the automatic transmission. The 6.4-liter 16-valve pushrod Hemi V8 is rated 485 hp at 6000 rpm, 475 lb-ft of torque 4200 rpm and gets an EPA-rated 15/25/18 mpg. The 6.2-liter supercharged and intercooled 16-valve pushrod V8 is rated at 707 hp at 6600 rpm and 650 lb-ft of torque at 4000 rpm.