2015 Dodge Charger Driving Impressions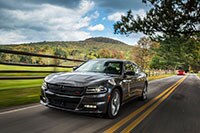 Charger is a big, none-to-light sedan that feels it: Solid, stable, and quiet until you give a Hemi the boot.
The standard 292 horsepower multiplied by an 8-speed automatic are more than adequate propulsion for cross-country drives or putting around the city. Both are smooth, unobtrusive and excel at highway fuel economy: We've recorded 32 mpg, and in town the weight will show with values in the high teens.
The V6 is the only engine offered with all-wheel drive, a new system that runs as rear-drive unless needed, to improve highway economy. Operation is completely automatic and transparent, simply select D and go. However, do remember all-wheel drive does not improve braking or cornering nor repeal the laws of physics.
Most Charger models, not necessarily sales, come with a V8; it's the sound and effortless thrust many expect from this mean-looking four-door. The standard 5.7-liter Hemi delivers 370 horses and 395 lb-ft of torque, the latter the greater, more useful gain over the V6. Now coupled to an 8-speed automatic EPA ratings are up to 16/25 mpg, with our experience 26 on the highway, half that in town. Big, fast and heavy have a price.
Despite the power the 5.7 is easy to drive at moderate speeds, with linear power build-up. Under low-load conditions it shuts off half the cylinders, which like the V6's all-wheel drive is done automatically and most drivers will never notice. Mash the pedal and the gearbox quickly gets the most of Hemi power, dispatching slower vehicles easily in passing zones. The Road & Track R/T's shorter axle ratio makes it slightly livelier than the R/T.
Charger's solid structure shrugs off bumps and induces no fatigue. Ride quality varies by model in subtle steps, the R/T Road & Track's fairly firm suspension remains compliant enough for sub-par roads, though you may prefer the regular R/T if that's all you drive on. R/T Road & Track stays nearly flat even when braking, accelerating or cornering hard, and it does well at all those dynamics. While the SRT models have firmer suspension calibration and stiffer tires, they also have three-step adjustable damping so ride quality remains intact, greater stick and damping available for good roads and higher speeds.
Electric-assist steering allows less effort for low-speed maneuvering and more at highway speeds, and you can vary the effort to your liking in three steps. Meaty steering wheels deliver quick response and a commendable 38-foot turning circle, and haven't given up much, if any, precision to previous Charger steering.
Scat Pack ups the ante with a 485-horse 6.4-liter Hemi, ducted hood, more aggressive bodywork, wider wheels and Brembo four-piston front brakes. It's very probably the fastest full-size four-door near its $40,000 price. It's hilarious good fun, as linear and controlled as an R/T only faster and noisier.
Then there are the big boys from SRT. The 392 runs the same (391 cubic-inch) 485-horspower 6.4 as the Scat Pack but adds massive six-piston Brembo brakes, wider-yet forged wheels and tires, adjustable dampers and launch control. If the Scat Pack is built for straight-line speed, the SRT is more built for using the power with bends as well. There were plenty of places we found it the most enjoyable to drive because of better weight distribution than the Hellcat and it was the easiest to use all of it and leave nothing on the table.
Finally there is the 707-horspower Hellcat. With tires no wider than the SRT392 and 222 horses more, it struggles to find traction at full throttle until you're beyond legal speed, like driving a lesser car with four first gears. On a drag strip initially it's traction-limited and then drives past things like 580-hp Camaros and 550-hp Mustangs. On the road you need to tread lightly; keep pushing further on the gas pedal and it feels endless, even if you're already doing 120 mph. If you measure your performance sedans in bang-for-the-buck, everything pales in comparison to the Hellcat.
At full throttle, Hellcat's exhaust note completely hides the supercharger whine. Steering effort is lighter than other Chargers because it retains hydraulic assist, but if you've dialed back all the electronic chassis aids (take the SRT school first), you can steer it with a quarter-turn and your right foot.
The safety systems in the Technology package worked as advertised, lane keep assist ready to argue with a driver who couldn't use signals. The view out is good so we never needed any warnings. All can be defeated, adaptive cruise control works to full stop, and forward collision warning does full stop at less than 20 mph, warnings and collision mitigation braking at more than 20 mph. With all the racket from the Hellcat, the deer were well aware and out of warning range.