2015 Dodge Charger Introduction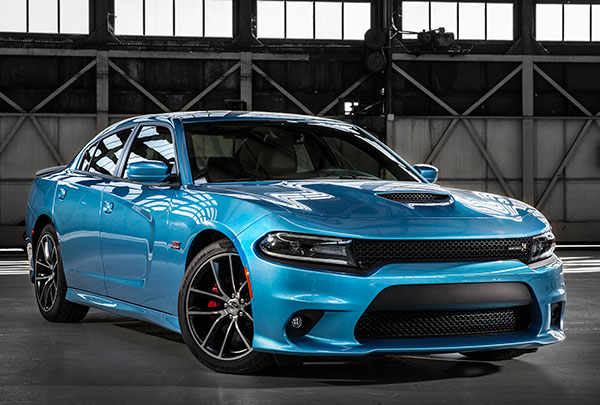 Extensively revised for 2015, Dodge Charger is America's four-door muscle car, full of presence and in some cases fury. It looks mean but rides well, is quite practical from a room and capacity standpoint, and can be had with all-wheel drive or packing a knock-out punch.
Though trimmed and slimmed around the edges and as distinctive and threatening as always, the 2015 Charger is no lighter or smaller than the outgoing version. Almost all the exterior is new for 2015 yet recognition is still immediate, day or night. No posers here, all the scoops, ducts, vents and spoilers on the performance models are fully functional.
Charger will carry four adults comfortably and child-seat in between without effort, and there's generous trunk to bring everything with you; unlike some sedans the rear seats fold for big-screen television load space. Unless you have a very small garage Charger can cover all your family driver needs.
Entertainment options include 276-watt Alpine, 552-watt 10-speaker Beats Audio, and 900-watt 19-speaker harman/kardon sound systems. Configurable driver displays and the Uconnect infotainment system have an excellent blend of conventional and touch-screen controls.
With about 300 horsepower and an 8-speed transmission the standard V6 Charger offers brisk acceleration and 30-plus mpg road-tripping. All-wheel drive is available for better inclement weather propulsion.
The 2015 Charger lineup includes three V8 Hemi engines across five models, all with appropriately authoritative exhaust notes and generous torque. They include the torquey 370-hp 5.7-liter, the bigger-is-better 485-hp 6.4-liter Hemi and a new supercharged 6.2-liter V8 with 707 horsepower. If descriptors like lunatic fringe or mental fit you and you don't mind new rear tires at every oil change, Dodge has your four-door.
Dynamic performance is very good with a controlled ride and little body lean in corners or heavy braking. Brakes are appropriately good across a lineup in which top speeds vary by 85 mph or so. Precise, fast electric-assist steering varies effort automatically and you can choose the baseline.
Regardless of engine, Charger feels solid, substantial and well put together. Big bumps don't crash through, annoying roads don't rattle the trim and we'd say the finishes match the class, but Charger's almost in a class of one.
Beyond the bodywork, interior updates and Hellcat model, the 2015 Charger now has seven airbags and a suite of safety features that can help cover-up inattentive driving, including lane departure warning, lane keeping assist and forward collision warning and mitigation braking.
Although there are a few rear-drive sedans in Charger's price range, most tend to have more luxury, less power, a higher price or all three. But Charger will be cross-shopped more with things like the Camaro, Mustang and Challenger than the likes of Cadillac CTS or Lexus GS, and a 707-hp Hellcat costs tens of thousands less than a BMW M5, Audi RS7 or Mercedes E AMG.
The only direct Charger competitors are the Chrysler 300 and the Chevrolet SS. The 300 offers similar power choices and is more formal than Charger. SS is offered only with a 415-hp V8, priced between a 485-hp Charger R/T Scat Pack and SRT392. In its favor, the SS will offer a manual transmission choice and is lighter than comparable Chargers.