2015 Dodge Charger Walk Around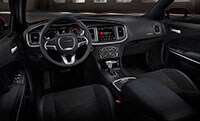 People renting one may think the 2015 Dodge Charger looks as it always has, an in-your-face four-door with a big trunk. It still has abundant presence and trunk space, but apart from the rear doors and roof everything outside is new. The 2015 Charger has been nipped and tucked around the corners, added to curves in between and swept rearward ever so slightly for a more lithe, agile look.
In profile, the classic rear-drive short nose, long tail proportions remain, but the overall effect is more flowing than the predecessor. Ends further tapered in plan view and roof pillar buttresses pulled rearward add aero smoothness, while the deep door scallop (along with the tail lights the primary 1969 Charger coupe styling elements) and broad shoulders over the rear wheels keep the masculine edge.
Side marker lights ride in wheel opening edges, better integrated than plugged in fenders. Front lights are pulled tight around the corners where you can see running lights, headlights and fog lights from the side. Although it doesn't show up in side view, a Pitch Black painted roof may be ordered for most, whether or not it has a moonroof.
Sideways U-shaped LED light strips appear cut off by the grille, only emphasizing the anger factor on V8 cars. Grilles vary from basic cross-hair to blacked out cross-hair to SRT's honeycomb arrangement, each more aggressive as you climb the model ladder. All use a beady-eye projector-style headlight, with bi-xenon lights on or available for most models. Mid-level models get triple element LED fog lights, but these are absent on top performance models, replaced by brake or engine cooler openings.
Tail corners lacking the old Charger's angular edges appear much sleeker and house tailpipes further inboard. They also let following traffic see plenty of tire tread, tow visual exclamation points for the badge on the tail. The arched trunk is often topped by a spoiler, size commensurate with speed, the R/T's lip not as pronounced as an SRT's raised-sides unit needed to balance the front and keep it on the ground at three miles-a-minute. With the license plate in the bumper we couldn't find anything to grasp to close the trunk without risking scratching it except the pull-handle on the inside edge.
The LED taillights now use a tube design that appears a single wrap-around tube of red light rather than a series of red dots resembling gridlock on a traffic map. LED turn and brake lights are attention-getting without being as dazzling as some.
SRT models use a unique front bumper with smaller upper grille and much larger lower grille, hence the missing cross-hair. The hood's forward-facing duct scoops cool air in, while the Hellcat's vents adjacent that scoop pull hot air out. The small slots behind the rear wheels are functional and let air out of the rear wheel wells.
Wheel finishes vary considerably, most of the V8 cars running on 20s. There are plenty of bright colors but to our eyes a Jazz Blue Pearl exterior with bronze finish wheels and a light caramel leather interior was the most striking: Complementary, elegant and not what you expect to go by in a cloud of tire smoke.
Interior
Charger offers full-size room, plenty of features and a good dose of practicality whether defined as flexible cargo space, a text-messaging assistant or something in between.
Finishes and materials are typical for the class, with soft-edge controls and soft-edge panels waist-high and up, with hard plastic lower doors and scuff panels for easy cleaning. However, the leather/suede upholstery on Road & Track and up is better than the average $36,000 car and the Hellcat's aluminum trim stands out. All the trim we saw was matte-finish so glare was never an issue.
Front seats are thick and well off the floor, with plenty of room for broad shoulders or hips; since the seats are relatively high, tall types will want to try on a moonroof-equipped model with the same seats to ensure they fit comfortably. Unlike some sport sedans, Charger's sport seats don't assume everyone has a 30-inch waist, yet those who do don't flop about. All Chargers have a tilt/telescoping steering column and power driver seat; some have adjustable pedals as well, so it's no trouble finding a good driving position.
Rear seats are similarly plump, with generous leg and spread-out room. Tall types don't do so well back here because of the sloping roof and rear window above. There are three integral headrests and the seat folds wide-side behind the driver in case the substantial 16-cubic-foot trunk isn't big enough. Some of those cubes may be consumed with optional stereo subwoofers but they're placed to the sides out of the way.
Cabin storage is bit above for par for a loaded rear-wheel-drive sedan, and this being a Chrysler product you have to hunt down the easter egg design touches. Many inputs and charge points are out of sight but cables can be run without being pinched or tethered in one groove.
The instrument panel is angled lightly toward the driver, with generous vents around the nav screen and instruments in a dog-bone surround. Analog speedometer and rev counter frame a configurable 7-inch color display capable of imparting hundreds of bits of information, all controlled through left-spoke thumb controls. Those are larger than average and workable in gloves better than you'd expect for 16 buttons (plus horn) on the front of the wheel. There are also radio controls on the back sides adjacent the shift paddles (bigger on SRT), so even a top texter or Morse-coder could literally have their hands full.
Stalks handle the major driving driving controls. Lights are left, with independent adjustment for dash and cabin lighting. Drive mode and safety system switches, to turn off lane-keeping assist in a construction detour, for example, are framed by volume and tuning knobs, climate control below. The inverted golf putter shifter is far better than earlier iterations. Every Charger uses push-button start and some will find keeping key in pocket less than ideal in the sport seats.
Dodge's corporate Uconnect system and 8.4-inch touchscreen remains one of the easier, more intuitive arrangements. The list of functions is daunting but using it is not: It even allows you to engage seat heat/cooling or steering wheel before agreeing to disclaimers. Everything we sampled worked as expected (plan on a month exploring the choices) and if anything's missing it wasn't obvious to us.