2015 Dodge Dart Driving Impressions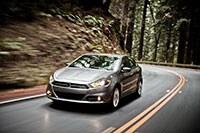 Chrysler calls the Dart's two naturally aspirated engines Tigershark. This appellation is a little difficult to fathom with the basic 2.0-liter version, which doesn't feel very tigerish, particularly mated with the optional 6-speed automatic transmission. This was our primary test sample, and the combination that probably makes up the biggest percentage of Dart orders: 2.0-liter engine, 6-speed automatic, likely in the SXT trim level.
So equipped, the Dart is a rather ho-hum performer off the line, with so-so throttle response and some reluctance by the transmission to kick down a gear or two in passing situations. The Fiat-sourced 6-speed manual improves performance slightly, as well as the fun-to-drive index, and generates EPA fuel-economy ratings of 25/36 mpg City/Highway.
The 1.4-liter turbo engine, shared with the Fiat 500 Abarth, delivers a little more verve. Its 160-horsepower rating is the same as that of the 2.0-liter, but it generates more torque: 184 pound-feet versus 148. The trick with this engine is keeping it in the sweet spot of its torque band, from 2500 to 4000 rpm. Otherwise, the engine bogs.
Suspension tuning in the mainstream Darts is far from whipped cream. The chassis engineers admit they Americanized the suspension specs from those employed in the Alfa Giulietta, which translates as softened. But softened doesn't mean mushy. There's more body roll than you'd experience in the Alfa, but the Dart's responses are still eager, enhanced by one of the best electric power steering systems in this class: accurate, tactile, and nicely weighted.
We should also note that ride quality, the objective of the Americanization, is excellent. Firm enough to retain a strong suggestion of Euro feel, yet supple enough to take the hard edge of sharp bumps and warty pavement.
A little more power, or a little less curb weight, or both, would make the 2.0-liter Dart a little more entertaining; but even so, the fun-to-drive index is well above average. The engineers also get high marks for quiet operation. A little road noise finds its way through the suspension, depending on pavement composition, but wind noise is nil, thanks to the aero refinements.