2015 Ford F-150 Introduction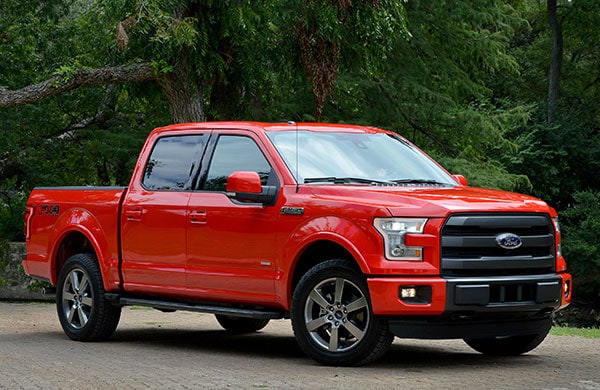 The Ford F-150 offers something for everyone interested in a light-duty pickup, be it for independent business like contractors or landscapers, fleet buyers, or as a second car. Interiors range from wipe-out simple to Lincoln-like luxury. The permutations are seemingly limitless. By trim, driven wheels and cab/bed mix there are 94 versions of F-150 to power and option. Once familiar with its measurements, the F-150 is easy to drive, and this latest version feels smooth and refined.
The 2015 Ford F-150 features a new body structure made of aluminum. Also new for 2015: a new frame with three times the high-strength steel of the old one. The changes result in a truck that weighs notably less and requires less power than the previous-generation but can still carry or tow plenty of weight.
The 2015 F-150 also has a new interior and a more extensive safety and gadget list.
For 2015, three of the available engines carry over from the previous model, accompanied by one new engine. (The previous 6.2-liter V8 has been dropped, and the SVT Raptor and Harley-Davidson specials are in hibernation.)
One V8 and three V6 engines are available for the 2015 Ford F-150 lineup, all with 6-speed automatic transmissions. The base engine is a 3.5-liter normally aspirated V6. Other engines become standard by trim, size and drive wheels, and include a new 2.7-liter twin-turbocharged V6 and a 5.0-liter V8. The 3.5-liter twin-turbo V6 is optional on all models.
The neatest thing about the aluminum truck is that, for most purposes, it works just like a steel one. You'll find it different only if you try to attach magnetic signs or some aftermarket equipment or perhaps in finding a body shop prepared to fix it following a collision. Your kid who wants truck parts when the body rots out will have to wait much, much longer.
While aluminum has taken weight out, Ford put pounds right back in the form of massaging seats, single- and dual-panel moonroofs, locking differentials, hitches, steps or running boards on three sides, and a variety of sensors, cameras and lights. And it's quiet enough we don't think they skimped on insulation.
Every F-150 has competitive room inside, with seat-counts from three to six. Unlike challengers, except the Nissan Titan King Cab, the mid-size F-150 SuperCab has clamshell doors that swing open to the rear. Positively, these are often the easiest way to load kids into child seats, awkward cargo or pets, and allow a longer-cab pickup with a 6.5-foot bed to fit in a standard 20-foot garage. Negatively, they're not as easy to deal with in confined areas, including crowded parking lots, and front-seat passengers must unbuckle before the doors can be opened.
The F-150 driving experience is affected by the wide latitude in materials, equipment and performance across a broad range of models. A base F-150 XL regular-cab pickup with the standard 3.5-liter V6 XL feels a different truck from a loaded F-150 Platinum SuperCrew with 3.5-liter turbo. You'd notice the $35,000 price gain between them just as easily. The priciest model approaches $63,000 without discounts or dealer accessories.
The Ford F-150 competes against the Chevrolet Silverado and GMC Sierra 1500 models, which offer three engines, more power and an available 8-speed automatic; the Ram 1500 with three engine choices, one a diesel, an 8-speed automatic and an air-suspension option; the Nissan Titan with an imminent redesign and diesel engine; and the Toyota Tundra revamped for 2014.