2015 Ford Mustang Introduction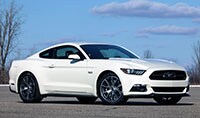 This is not your father's Mustang. The wild pony has grown into a refined, capable thoroughbred, updated with the latest engineering and technological advancements. But not to worry, the iconic muscle car hasn't abandoned its roots. The 2015 Mustang is the logical evolution of a classic, with notable improvements in power, handling and interior features, while retaining every ounce of its visceral appeal. Without a doubt, the 2015 Ford Mustang is the best yet in the model's 50-year history.
At first glance, the redesign of the 2015 Mustang is not revolutionary. Lines and proportions are unmistakable, long in front, short in rear. The new Mustang is lower and wider, with a wider rear track and rear fenders, giving it a more aggressive, hunkered appearance. In a nod to Mustangs past, coupes return to the fastback rear window. The new design helps the Mustang achieve a lower coefficient of drag, which helps it slip through the air more easily and perform more efficiently. New design cues include LED headlights and accent lights, as well as a new three-dimensional interpretation of the classic tri-bar tail lights.
The 2015 Mustang gets power from one of three engines, including a new 2.3-liter turbocharged inline-4 Ecoboost engine that makes an impressive 310 horsepower and 320 pound-feet of torque. Base models use a 3.7-liter V6 that makes 300 hp and 270 lb.-ft. of torque. The Mustang GT gets a new 5.0-liter V8, with a new valvetrain and cylinder heads, as well as a new intake manifold for better low-speed aspiration. The 5.0 is no slouch, putting out 420 hp and 390 lb.-ft. of torque.
Unlike many car companies, Ford still has love for the manual transmission, as do we. The standard gearbox on all models is a 6-speed manual with hill start assist, with just the right amount of feel through the gates, not too firm and not too sloppy. A 6-speed automatic is optional, which we found to be quite good. Even in normal mode, the transmission is geared on the sporty side, holding shifts longer and downshifting when our revs dropped. All automatics come with paddle shifters, for those who want to click through their own gears.
Handling is vastly improved on the 2015 Mustang thanks to an all-new suspension. Up front is an independent MacPherson strut system that uses double ball joints, which also clears space for larger brakes. In back, the Mustang finally goes to an independent rear suspension (the setup of choice for most sports cars), using an integral-link setup that features retooled springs, dampers and bushings, as well as aluminum rear knuckles that reduce weight; this replaces the previous live rear axle.
Interior quality is improved in the 2015 Mustang, with soft-touch materials, comfortable seats and an attractive, logical dash layout. More features come standard, among them pushbutton start and Ford's Sync voice recognition system. Small, thoughtful touches equate to more comfort, including a narrower center stack that leaves more knee room for the driver and front passenger, and the repositioned cupholders on the center console that leave a clear shifting path.
Though the 2015 Mustang shows improvement in nearly every way, it slips compared to the outgoing models when it comes to fuel economy. The most efficient is the new 2.3-liter Ecoboost engine, which achieves an EPA-estimated 22/31 mpg City/Highway with the manual transmission and 21/32 mpg City/Highway with the automatic. V6-powered Mustangs rate 17/28 mpg City/Highway with the manual and 19/28 mpg with the automatic. No surprise that the V8-powered 5.0 Mustang GT is the biggest gas guzzler, with an EPA rating of 15/25 mpg City/Highway with the manual and 16/25 mpg with the automatic.
Competitors to the 2015 Ford Mustang include the Chevrolet Camaro and Dodge Challenger, but we think the Mustang clearly outshines both of these when it comes to performance, drivability and value.