2015 Ford Transit Connect Walk Around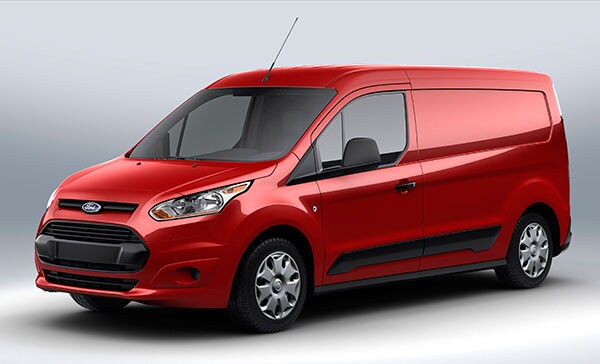 A forward wedge to disguise a basic box with an elongated nose is used by every van maker, and the Transit Connect is no different. When function trumps form options are limited.
Even absent the blue oval this grille is easy to identify as a Ford, not unlike a Focus or Escape. Aesthetics depend on model, as painted bumpers and fog lights are more interesting than the plain versions purposely designed to fend off fence posts, loading docks and other vans that commercial vehicles seem to encounter regularly.
All Wagons are all glass that's high relative the seats, an excellent reason to strongly consider the optional privacy glass heavier window tint: Better glare-control year round and a better-looking dark blade down the side. Vans can be ordered with glass in passenger or both side doors, which could be handy for interior visibility, camping or if you plan to carry hounds. The signal repeater on the fender gives broader coverage than on the end of the mirror.
Side mirrors have integral wide-angle elements and can be folded on all; where not standard mirror-heat is optional. Titanium models get power-folding mirrors to automatically retract when you lock it, not a bad idea with flat-sided vehicles.
The rear overhang is short, the rear window deep and the bumper close to flat, so it's easy to back up; with a camera or park sensors you can handily leave a gap of no more than an inch or two. Every version except Titanium offers the choice of a liftgate our six-foot-plus correspondent easily stood beneath or 180-degree-swing cargo doors. Liftgates come with a rear wiper, cargo doors offer the option.
Save the Titanium, steel wheels are standard and aluminum optional on all but XL. Regardless of wheel material or diameter every Transit Connect includes a full-size, not necessarily cosmetically-matching, full-size spare tire. And the wheels and tires are lighter than most crossover sizes, making it easier to store a set of winter tires.
Interior
The Transit Connect is appropriately appointed inside whether you're hauling appliances and parts, people and luggage or friends and relatives on heated leather. It will feel familiar to almost any Ford owner, and the control and instrument layout is similar to Focus, Fusion and Escape. You wouldn't be out of line thinking it a larger, taller Focus wagon.
A huge windshield far forward of the driver reminds of a Class A motorhome or Volkswagen's 21st-century Beetle; you may not be able to touch any part of it from the driver's seat, and in wintry climes the electric windshield defroster can save time and fuel. Big visors swing to cover the side windows as well, but doing so could leave the other front seat occupant in it and there is no heavy-tint band along the top.
Front seats are comfortable, moreso the more adjustments they have. We can't speak to a delivery driver jumping in and out all day, though we did plenty of it without seeing any obvious hindrance. With the tilt/telescoping wheel's decent travel, most should find a good driving position.
Middle-row seat cushions are contoured in even thirds, the outer backrests a bit softer than the middle hiding an armrest. Head and legroom here rivals full-size SUVs and there are few vehicles easier to install or load child seats in, especially if there's another vehicle 18 inches away. Simple slots hold belts out of the way when needed, and the release moves the seat down and forward for third-row access or full cargo space.
Third-row seats have big flip-up headrests and head and legroom on par with most family sedans; you can put two adults back here and they'll only feel slighted in mind, not body. Unlike the second-row, these recline partially, and they slide fore and aft to best balance cargo area and people-room required.
Folding the third-row requires first flipping the cushion, then dropping the backrest. Panels on the backrest then flip over to effect a flat floor to the folded middle row. The seats-down cargo floor doesn't extend all the way to the liftgate, the gap around half-a-foot, but does yield a level, flat floor more than six-feet long at console-top height.
The Van holds 104 (short wheelbase) or 129 (lwb) cubic feet of cargo behind the seats, more with the passenger seat folded. The short-wheelbase five-seat wagon holds 46.9 behind the second row and 77 behind the first row, while the lwb Wagon is 15.7-19.8 behind the third row, 58.9 as a five-seater and 104.2 behind front seats. Those numbers compare favorably with larger, heavier, thirstier three-row crossovers like Ford's Explorer (21/43.8/80.7) or Dodge's Durango (17.2/47.7/84.5). The low floor height and sliding side doors offer easier loading, especially for youngsters, and that space can be filled with real cargo, not just balloons or flowers, with payloads ranging from about 1200 to 1620 pounds.
Standard analog instruments in hexagonal housings are augmented by a small display between them, all easily viewed through the four-spoke wheel. Climate controls and ancillary switches are quick to master, and while the logic was straightforward, the small touchscreen and buttons, reach to it and none-too-quick response couldn't match ProMaster City's UConnect system. Both the proper handbrake and shifter are easy to reach.
An overhead storage tray holds a lot of papers or items larger than a gum pack, but remember you can see only through holes in the bottom and contents may shift during your drive. There are also map-lights, glasses holder, wide-angle mirror to monitor rear passengers and assist handles up there.
There is also good storage in the door pockets, glovebox, center console, sub-floor bin and optional overhead bins just aft and above the front seats. Only the rubber coin-holder between the two primary cupholders that always came up with our water bottle, can or coffee seemed an afterthought.