2015 Ford Transit Connect Introduction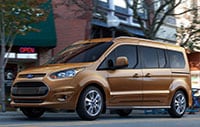 The Transit Connect is Ford's originated-in-Europe compact van. It's smaller than full-size cargo and passenger vans, including the so-called minivans, such as the Odyssey, Sienna and Town & Country, but larger than the Mazda5 and with more cabin space than most small to mid-size crossovers. Its primary mission is moving cargo and people, not towing family boats or using all-wheel drive as a substitute to common sense.
Transit Connect is the only vehicle in this class to offer two different lengths and in passenger trim a choice of five or seven seats. You can't mix and match every variable, but there are more permutation than others.
It also offers an engine choice no one else does. The standard 2.5-liter four-cylinder is similar to Ram ProMaster City's 2.4, more powerful than the Nissan NV200 or Chevrolet City Express 2-liters. Transit Connect Van and one short-wheelbase passenger model offer a 1.6-liter EcoBoost that makes more power and torque, at lower revs, than the 2.5 and gets higher EPA ratings. Both come with a six-speed automatic transmission and front-wheel drive.
The Van is merely for hauling one or two people and cargo, up to 1620 pounds of it, or 104 cubic feet in the short wheelbase and 129 in the long. At six feet wide and 190 inches or less long it's easier to maneuver than most pickups or anything else that carries that much.
The Wagon derivative offers a 5-seat XLT short-wheelbase model with passenger space for five on par with family sedans and 47 cubic feet of cargo space; 77 with the rear seat folded. Long-wheelbase seven-seat wagons offer 15.7-20 cubic feet behind the sliding third row, 59 behind the middle row and 104 behind the front seats. Those numbers shame many seven-seat crossovers (the larger, heavier Explorer offers 21/44/81 cubic feet, respectively), and the low floor height and sliding side doors offer superior access. There are plenty of places to stow things inside, many you'd not normally think of, and while the seat-folding isn't state-of-the-art simple, it's a very practical apparatus.
From the driver's seat Transit Connect feels like you're in a slightly higher Focus seat facing the same hexagonally oriented dash design, inside a big motorhome because of huge windows and lots of open space. Feature content is closer to Focus or Escape than an optioned-up Fusion or Explorer, but so is the price, and you can get navigation, leather upholstery and many conveniences.
Transit Connect drives like a car, with controlled body motions, predictable road manners and an excellent view for skipping through traffic. The Wagon's ride is comfortable and quiet enough for road-tripping, and it rides best with a few people on board, while the Van is better with something in back so it's not a big empty echo chamber.
The 2.5-liter engine is adequate for traipsing around town or interstate cruising. Heavy load acceleration, mountain grades and passing will require lots of revs but it never felt stressed or that it couldn't do that all day long. The transmission does its job well and the shifter's an easy reach. Disc brakes all around are a step up from the competition and proved happier bounding down steep hills.
An optional turbocharged 1.6-liter delivers more power in a relaxed manner, and unless you're exploiting that power frequently, nominally better fuel economy than the 2.5; alas, it is not available in seven-seat Wagons. EPA estimates range from 20-22 city to 28-30 highway depending on configuration, with Wagon usually 1 mpg lower because of additional glass and insulation weight.
Transit Connect competes directly with Ram ProMaster City (cargo and 5-seater) and Nissan NV200 and Chevy City Express cargo vans; the two different wheelbase Wagons frame the six-seat, three-row Mazda5. If you don't need all-wheel drive or moderate towing capacity, it's often a less-expensive, more practical alternative to three-row crossovers. If you don't need as much room, especially in the third row, a Mazda5 does it for thousands less.