2015 Ford Transit Introduction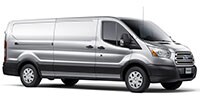 Ford Transit is a full-size van available as a passenger van or cargo van. Transit can be configured for a variety of specific uses and offers a choice of roof heights and overall lengths. Millions of them have been sold for decades around the world, but wasn't introduced to the North American market until the 2014 model year. So it's relatively new to us.
Transit is suitable for independent contractors, fleet operators, plus anyone who can use a small bus, including civic, school and public and private transportation entities. Larger models are big enough to take a few riders, dirt bikes and camping gear inside. They can serve as camping vehicles themselves.
Much like a pickup, Transit uses two wheelbases and three lengths and roof heights to make six wagon and fourteen cargo configurations. Wagon seating includes 8, 10, 12 or 15 seats with luggage space to match; maximum load ranges from 2300-3700 pounds and towing to 5100 pounds. Cargo van capacity peaks at 487 cubic feet by volume, payload is 3000-4600 pounds, and maximum tow rating is 7500 pounds.
All Transits have a six-speed automatic transmission and rear-wheel drive; like the Econoline, no factory 4WD system is offered. A 270-hp 3.7-liter V6 gasoline V6 is standard on all but dual-rear wheel models. A 3.5-liter turbocharged V6 is the performance choice with 310 hp and much more torque. The diesel choice is a 3.2-liter inline five-cylinder fuel-economy leader.
Transit rides like a tighter, more solid, better balanced 3/4-ton pickup and it can carry more than most pickups. Unlike a pickup, however, Transit does not have a separate frame and body assembly; it is a unit-body, like a car. Sensible 16-inch tires have plenty of sidewall to soften the impact from potholes and sharp road imperfections, and noise is well controlled. Despite its big footprint Transit is quite maneuverable.
All Transits look similar with nearly flat sides, tail and roof; if the mirrors fit through a gate or door the rest of it will too. Sliding or hinged right-side doors are offered, the barn doors in back open at least 180 degrees, and the huge windshield is easiest to clean standing on the front bumper's built-in step. There are plenty of rack choices offered for the roof and the interior.
An upright driving position faces a broad dash, with many controls and gauges familiar to Ford car owners. The commercial background is apparent in bins and cupholders and most will appreciate the lack of a doghouse engine cover intruding on front seat room. Only a handbrake adjacent the driver's seat has any effect on the walk-thru from front to back.
Wagon rear seating varies considerably by rows and aisles, but every seat has an individual backrest and built-in shoulder belt. The mounting brackets align longitudinally so long, slender items (10 feet back door to front belts on the shortest model) can be slid under the seat rows without removing any of them.
Transit competes against Mercedes-Benz Sprinter, Ram ProMaster, Nissan NV, Chevrolet Express and GMC Savana. To a lesser extent, Transit competes with the outgoing Ford Econoline van. Econoline is well proven but we can think of just two major advantages over the Transit: It has a higher top tow rating and it costs less.